Ruthless Mexican drug lords unite to whine about 'inhumane' treatment in prison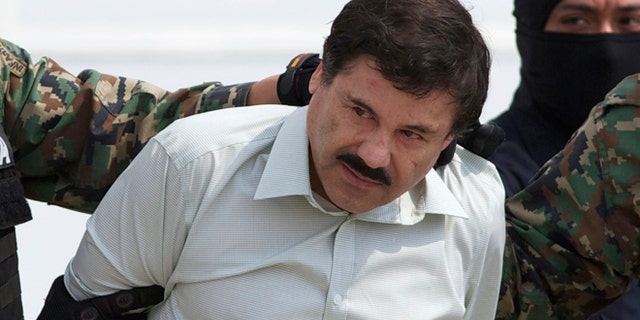 NEWYou can now listen to Fox News articles!
They are known for their ruthlessness – beheadings, mass killing and brutal torture. They are responsible for destroying hundreds of millions of lives around the world with their sophisticated drug dealing networks.
And now they are crying about unfair treatment.
Mexico's top drug lords, who are serving time together in Mexico's maximum-security prison called Altiplano, have released an 11-page letter complaining about their "inhumane" living conditions at the jail.
Joaquin "El Chapo" Guzman, Edgar Valdez Villarreal, a.k.a. "La Barbie," Héctor Beltrán Leyva "H" and Miguel Ángel Félix Gallardo, alias "The Godfather," to name a few of the 138 signers, have addressed a letter to the Mexico's National Human Rights Commission alleging that they are forced to sleep in overcrowded conditions, some on the floor, and are only allowed one hour a day of outside time.
They also claim their family members are stripped naked and humiliated when they come to visit them at the country's highest-security facility, which is located just outside Mexico City.
"The confinement is contrary to human rights, since it is not possible to be locked up 23 of the 24 hours in the day (...) It is impossible to prepare for a possible social reintegration," the inmates wrote.
They ask that yard hours be increased to two a day and that they be allowed more telephone time – they currently get 10-minute phone calls every nine days – and request better public booths "as the ones they have in more advanced countries."
Mexico's National Human Rights Commission's spokesperson Cristobal Montoya told Fox News Latino that the complaint is being processed according to standard procedure: "The commission starts an investigation on the matter, which is to remain confidential, and requests evidence of the reasons for the complaint to the authorities in charge – in this case penitentiary officials."
Montoya said this phase, which typically takes 10 or 12 days, is followed by visits and interviews with all the people involved in the complaint.
"The commission will issue a resolution with recommendations," he said, adding that the Mexican Congress is currently debating a bill that would make all commission's recommendations legally binding.
In the meantime, Montoya said, nobody in the commission is allowed to comment on the case.
However, an online publication in Mexico posted excerpts of the complaint, including a fax showing all the signatures, including Chapo's.
"The incarceration occurs in inhumane conditions where overcrowding is common, as cells designed for two are currently being inhabited by three inmates, where one literally lives on the floor, becoming exposed to skin, respiratory and pulmonary diseases... on top of living with the smell of the toilet and water leaks," the letter reads in Spanish.
When El Altiplano prison was built in the late 80s, the government's prime focus was preventing escape and protecting it from an outside attack. According to published reports, its walls are 3 feet thick, airspace is restricted and cell phone communications are limited to a six-mile radius.
Also, regular polygraphs are given to all level of personnel and advanced technology is able to pinpoint the location of every single piece of equipment (including kitchen utensils and tools) and people.
The AP contributed to this report.