Russia's defense minister visits Syria, meets Assad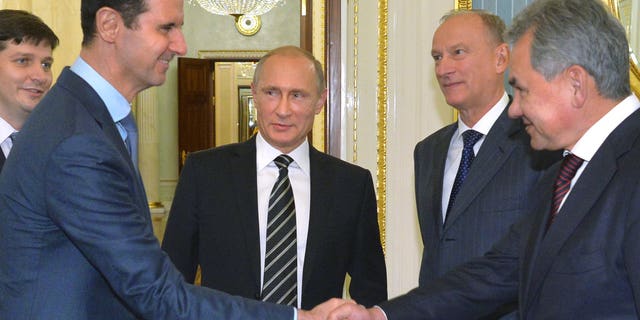 NEWYou can now listen to Fox News articles!
Russia's defense minister has traveled to Syria to meet with its leader and visit the Russian air base.
The Defense Ministry said Saturday that Sergei Shoigu met with Syrian President Bashar Assad to discuss military ties and cooperation in fighting "terrorist groups."
Russia has conducted an air campaign in Syria since last September, helping Assad's forces win back some ground.
Shoigu also visited the Hemeimeem air base in the province of Lattakia, where he talked with pilots and inspected the S-400 air defense missile systems protecting the base.
A U.S.- and Russian- brokered cease-fire that began on Feb. 27 has helped reduce hostilities, but fierce fighting has continued in many areas. The Islamic State group and the al-Qaida branch in Syria, the Nusra Front, have been excluded from the truce.