Russia's chess diplomacy at the UN Security Council leaves US, allies frustrated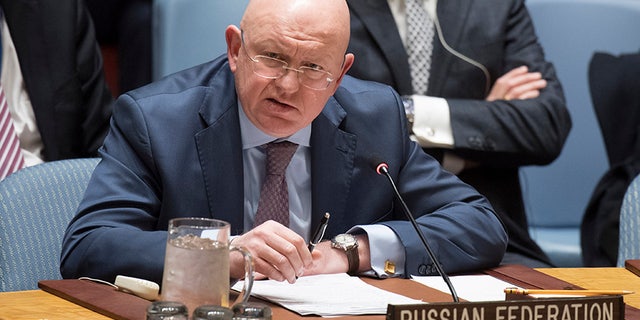 Russia's dogged defense of Syria at the United Nations Security Council has resulted in an ongoing diplomatic game of chess between Russia and U.S. Council allies. Russian has used its veto 11 times to protect the Assad regime since the start of the Syrian civil war in 2011.
The latest Russian move came at a Security Council meeting on Libya earlier in the week when Russian Ambassador Vassily Nebenzia chose to bring up Syria and publicize a documentary showing civilians leaving war-torn areas.
One Security Council diplomat told Fox News, "Russia hijacking an open meeting to push their own propaganda on an entirely different subject was absurd. Russia would have had a fit if any other Council member had pulled what they pulled. It's yet another clear abuse of their status as a permanent member of the Council."
At the end of that meeting on Libya, Ambassador Nebenzia publicized a documentary showing civilians leaving besieged areas of Eastern Ghouta and also read two press reports.
Nebenzia gave his reason for the Syria update saying his remarks were made to show that resolution 2401 was being implemented by Russia.
He said, "As regards a documentary it is a documentary, not a fiction film – the documentary gives you the real picture of what took place in the recent days in that enclave under Damascus and I hope that members of the Security Council will find the time to watch the film."
Resolution 2401 demanded an immediate 30-day cessation of hostilities so that humanitarian aid could reach the hardest hit areas of Syria. Several members of the council including the U.S., France, and the U,K, have accused Russia of blatantly violating it.
Hugh Dugan, a former US diplomat at the United Nations who served as an adviser to 11 U.S. ambassadors, said the Russians play the U.N. like a game of chess and are always three moves ahead.
He said the Dutch president of the Security Council handled the Russian move on Syria smartly.
"The Netherlands opted to let it pass, thinking that otherwise the Russians might have extended the meeting on procedural grounds bringing even more publicity to their point," he added.
Dugan, who is the director of U.N. Engagement at Seton Hall University School of Diplomacy in New Jersey, said the Russians are well aware of how the system works. "We know they exploit the procedures and the atmospherics, and it's always a matter of not playing into their hands any further than what is inevitable."
Two days before the Libya meeting the Russian delegation placed the council in check again when it won a procedural vote at the Security Council that led to a planned briefing by the U.N. High Commissioner for Human Rights on the situation in Syria being stopped. But the U.S. and its allies did not let it go unanswered.
A U.S. diplomat told Fox News, "Russia's vetoes and procedural moves, they're all designed to delay and distract - particularly on Syria, where Russia seems to stop at nothing to defend the Assad regime. But what happened on Monday is a good example of how quick and creative thinking can work around Russia's obstruction."
The US diplomat continued, "When Russia hid behind a procedural vote to block the Council from hearing a briefing on the human rights situation in Syria, Russia once again proved that it cares more about protecting the atrocities of the Assad regime than about the suffering of innocent Syrians. But they were not successful. Other members of the Council came together - quickly - to continue the conversation at an Arria-formula meeting (informal) and allowed High Commissioner Zeid to give his briefing to a full room of member states, press, and NGOs.
Another Security Council diplomat told Fox News that, "It's difficult to deal with Russia on Syria." The diplomat continued, "We have different agendas, that's why it's difficult. We see it time and again."
Last month Ambassador Nebenzia complained to Fox News of continued efforts to defame his country. "We were invited by the legitimate Syrian government to help defend terrorists, which we did since 2015, while the U.S. was never invited to Syria. Who is the aggressor tell me?"
He went on to say that as soon as any progress is made on the political front, there are new reports and accusations against Russia regarding questions on Syria's use of chemical weapons.
"These reports are a shame. Again these chemical episodes happen, intensify and start to happen out of the blue when something is going on positively on the political front that is clear for us as well. That's the other side of the same coin."
Russia vetoed a Joint Investigation Mechanism of the Security Council and the OPCW on investigating the perpetrators of chemical weapon attacks in Syria last November. The so-called JIM had accused the Assad regime of using chemical weapons on its citizens.
It has been exactly a month since the U.N. Security Council passed a watered-down resolution to get Russia on board to push forward with a humanitarian cease-fire.
According to figures from the Syrian American Medical Society (SAMS), and given to Fox News by the Syrian American Council, since the adoption of resolution 2401 the number of dead now stands at 1,366, with nearly 6,000 injured.
Jonathan Wachtel, the former director of communications and spokesperson for the U.S. Mission under Ambassador Nikki Haley, told Fox News that while there have been some moments of cooperation it remains a problem.
He said, "The last years have seen Russia undermining U.S. policy on major crises of our time. From insisting that North Korea had not tested ICBMs to refusing to hold the Syrian government accountable for chemical weapons attacks on civilians, Moscow has far too often chosen denial and spin to avoid taking a moral stance."