Russian, Western media offer different images of Aleppo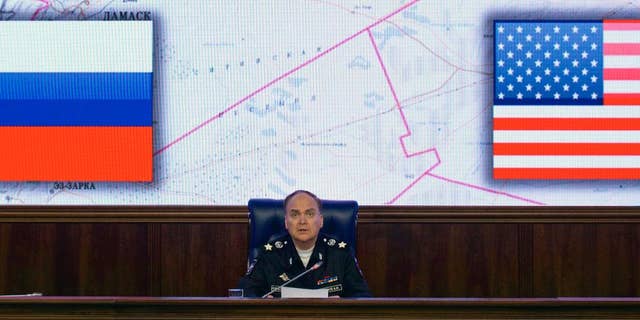 MOSCOW – While Western media are filled with grim images of life in areas of Aleppo under siege by Russian-backed Syrian government forces, Russian news reports tell a very different story.
News outlets such as CNN and the BBC prominently reported a United Nations special envoy's observation last week that rebel-held parts of the besieged city could be "completely destroyed in two months" by Russian and Syrian bombardment.
On that same night, state-owned broadcasters in Russia glossed over the envoy's remarks. Instead, they aired stories about the mortars Syrian rebels fired at an expensive hotel where Russian journalists were staying.
As Russia's air campaign in Syria enters its second year, the portrayal of Aleppo has become a key weapon in the Kremlin's public information armory as it looks to retain domestic support for a military intervention that is generating widespread condemnation abroad.
The Kremlin-controlled TV channels that are the primary source of news for most Russians barely mention the destruction inflicted by the jets their government is flying over rebel-held areas of the city. The less-extreme damage in areas controlled by President Bashar Assad and purported links between Western governments and Islamic extremists noticeably dominate the newscasts.
"Russian media is very selective in what they show," said Ulrich Schmid, a professor of Russian culture at the University of St. Gallen in Switzerland. "The main message the Russian media is trying to get across to audiences is that Russia is the only nation fighting Islamic State effectively."
From the start of Russia's bombing missions in Syria, Western and Russian media have reported the assault through different lenses. Russian reports say Moscow's air strikes are launched to wipe out extremists. Western coverage, by contrast, gives time and space to claims Russia backs Assad to advance its own geopolitical agenda.
The differences have been particularly stark in recent weeks, as international criticism of Russia's actions in Syria has intensified to include allegations of war crimes.
When the cease-fire brokered by the U.S. and Russia was collapsing last month, Western media focused on a statement by the World Health Organization that just 35 doctors were left in rebel-controlled areas of Aleppo to care for 250,000 people.
Meanwhile, evening bulletins on Russia's main state-owned television networks showed almost identical reports about a mortar shell that, after failing to explode, became lodged in the roof of a school in government-held Aleppo.
The almost exclusive media focus on attacks apparently being carried out by rebels on parts of Aleppo under Assad's control appears to be part of the Kremlin's media strategy. Unlike rebel-held Aleppo, these areas are less damaged. They have not been subject to months of intensive aerial bombardment, nor have they seen their civilian infrastructure, including hospitals, systematically destroyed.
But a top news executive at the sprawling state-owned Channel One network said Russian television crews were just reporting what they saw.
"Rebels are besieging areas controlled by Assad and they have recently been on the attack," Channel One's director of news Kirill Kleymenov said in an interview.
While reporting on the devastation in rebel-held parts of Aleppo, newspapers and television stations in the West have highlighted the work of the White Helmets, the volunteer civil defense force that digs the dead and injured out from collapsed buildings.
But the White Helmets, which was short-listed for a Nobel Prize, receive much less coverage in Russian media, where they are portrayed as stooges for Western powers.
Russian state-owned television channel Vesti reported last year that the group was linked to U.S. investor George Soros, while Channel One informed its listeners that British intelligence has trained White Helmet members.
"Their grand narrative is that the U.S. causes chaos and destruction and backs terrorists while Russia is on the side of peace and stability," said Peter Pomerantsev, a television producer who worked in Russia and is the author of a book about the role of the media under Putin.
Russian media executives — at both state-controlled and independent media outlets — are, however, critical of what they see as a bias in Western coverage.
"Aleppo, unfortunately, has become the spot where we've seen a lot of mainstream media journalists become activists, cynically using shocking imagery in pursuit of a political agenda," said Margarita Simonyan, editor-in-chief of RT, the state-owned English language satellite TV channel, which is widely watched abroad.
Maksim Yusin, the editor of international politics at leading Russian business daily Kommersant, sees a political agenda, if not hypocrisy, in the moral outrage in a lot of Western news reports about Aleppo.
"Where was this hysteria when the U.S. bombed (the Iraqi cities of) Fallujah and Ramadi?" Yusin asked.
The united front presented by Russian media over Syria has helped shape public opinion in Russia so that is broadly supportive of the Kremlin's Middle East policy.
Nearly two-thirds of the population backs Russia's military campaign in Syria, according to Lev Gudkov, who directs the Levada Center, an independent Russian pollster.
Such overwhelming approval means Russian officials have little problem publicly batting away war crime allegations from Washington and European capitals with a few angry words about Western double standards.
"In conditions of total censorship people are basically indifferent... (They) don't follow events in Syria, are not interested, or accept the official version," Gudkov said.