Russian trolls ramp up disinformation campaign after Syria airstrikes: Pentagon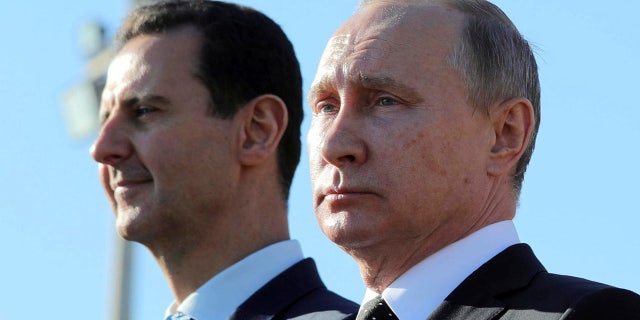 NEWYou can now listen to Fox News articles!
Following U.S.-led coalition strikes in Syria to degrade chemical weapons capabilities, the Pentagon says it's seen a "2,000 percent increase" in Russian "disinformation."

Russia, a close ally of Syrian President Bashar al-Assad, has reportedly started a new campaign to spread propaganda and other false narratives on social media after the U.S., France and the United Kingdom staged airstrikes in Syria this weekend in response to Assad's alleged use of chemical weapons.
Chief Pentagon spokeswoman Dana White said at a briefing on Saturday that "there has been a 2,000 percent increase in Russian trolls in the last 24 hours."
Saturday's briefing was an attempt to counter any false information.
An investigation into the 2016 presidential elections by the federal government has found that a number of Kremlin-backed hacking groups spread politically charged content across social media platforms in an attempt to influence the outcome.
At a meeting of the U.N. Security Council Saturday, U.S. Ambassador Nikki Haley took aim at Russian ambassador Vasily Nebenzia over the "fake news."
"The pictures of dead children are not fake news," she said.
Russia drafted a U.N. resolution condemning the strike against Syria but it failed with only China and Bolivia showing support.
The Pentagon doubled down on the president's claims that the missile strikes were a success after confirming that all three targets were hit and that Assad's ability to produce more chemical weapons "significantly crippled."
Fox News' Adam Shaw and The Associated Press contributed to this report.