Russian spy chief accuses US and UK of staging nerve attack, predicts return to 'dark times of Cold War'
The head of Russia's foreign intelligence agency lashed out at the U.S. and NATO allies on Wednesday, accusing the West of provoking a new Cold War amid escalating tensions over the poisoning of an ex-spy and his daughter in England.
Sergei Naryshkin, the director of Russia's Foreign Intelligence Service, told a security conference in Moscow attended by defense officials from Asia, Africa, and Latin America that the attack on the former spy, Sergei Skripal, was a "grotesque provocation rudely staged by British and U.S. intelligence agencies."
British and U.S. officials have previously rejected similar allegations, instead pointing the finger at Russia, which has a long history of ordering hits on spies and dissidents.
Tensions between Russia and other Western nations have greatly escalated since March 4, when Skripal was poisoned by a nerve agent. The United States last week ordered 60 Russian diplomats to leave, part of a widespread expulsion of diplomats by Britain and some of its allies. Moscow ordered tit-for-tat expulsions of Western diplomats as a response.
Naryshkin said actions such as the expulsions, differences over the war in Syria and the allegations of Russian meddling in the 2016 U.S. presidential election mean it's possible to start speaking of a return to the Cold War era, according to Reuters.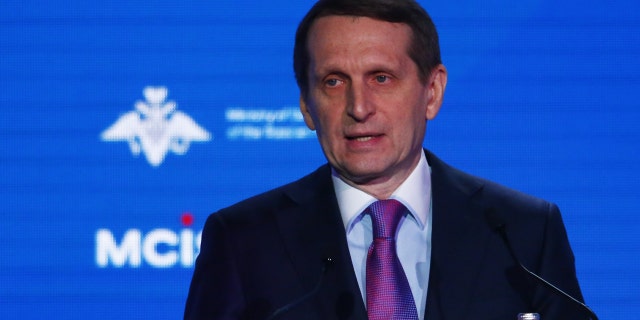 "Washington has become fixated with the fight against a non-existent, so-called Russian threat. This has reached such proportions and acquired such absurd characteristics that it's possible to speak of a return to the dark times of the Cold War," he said.
HERE'S WHY RUSSIA WOULD LOSE A SECOND COLD WAR -- AND WOULD BE UNWISE TO START ONE
He added that that the U.S. and its allies have been unable to adapt to global changes, including a growing role of China, Russia and other countries.
Another top official, Russian Defense Minister Sergei Shoigu, accused the U.S. and its NATO allies of using "the non-existent Russian threat to methodically boost their military potential" and beef up their forces near Russia's borders.
Shoigu emphasized that the U.S.-led missile defense program has become a "major destabilizing factor inciting an arms race."
He pointed at a growing number of NATO intelligence flights near Russia's borders and an increasing pace of NATO's military drills, noting that they have "a clear anti-Russian character."
"The danger of provocations and military incidents has significantly increased," Shoigu said.
Shoigu said that NATO has stonewalled Moscow's attempts to engage in a dialogue, adding that "we aren't going to knock on the closed door, but will not leave attempts to apply pressure on us unattended."
He warned that Moscow will respond to NATO's moves by strengthening its defense capabilities to "ensure military security of Russia and its allies."
The Associated Press contributed to this report.