Russian President Putin withdraws request to use force in Ukraine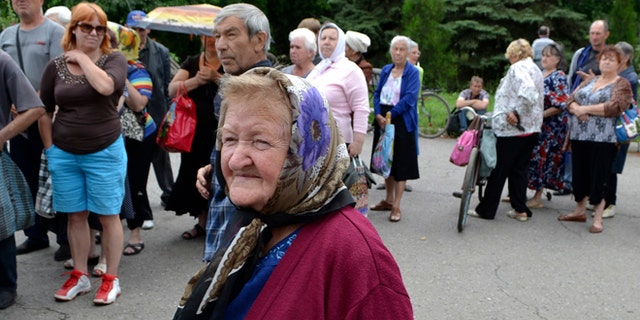 MOSCOW – Russian President Vladimir Putin asked parliament Tuesday to cancel a resolution sanctioning the use of military force in Ukraine, a move his Ukrainian counterpart heralded as a "practical step" toward bringing peace to a region roiled by a separatist insurgency.
Putin's announcement comes after pro-Russia rebels in eastern Ukraine said Monday they would respect a cease-fire declared by Ukrainian President Petro Poroshenko, raising hopes for an end to months of fighting that have killed hundreds and driven thousands from their homes.
A statement on the Kremlin website announced that Putin had asked the head of Russia's upper house of parliament to cancel his March 1 request authorizing the use of force on Ukrainian territory.
Russian parliament member Valery Shnyakin said the house would vote Wednesday on the issue, according to RIA Novosti.
Russian markets, which have been rattled by the crisis in Ukraine and a host of sanctions by the U.S. and the European Union against Russian officials and businessmen, soared 1.6 percent Tuesday after the news, reaching a four-month high.
The Russian leader had made the request after Ukraine's pro-Russian president was ousted in February following months of street protests. In March, Ukraine's Black Sea region of Crimea was annexed by Russia after being seized by troops that Putin later acknowledged were Russian army forces.
Putin's latest move reflects an effort to de-escalate the crisis ahead of a visit Tuesday to Vienna, where he is meeting with the Organization for Security and Co-operation officials who have helped broker peace talks between Kiev and Moscow.
Kiev and Western governments have frequently accused Russia of supporting the rebels in the east and of amassing troops on the border for a possible invasion of Ukraine. But Poroshenko, Ukraine's new president, lauded Putin's announcement Tuesday.
The cease-fire in east Ukraine appeared to be largely holding Tuesday, as soldiers at a checkpoint in Dovhenke, 30 miles north of the rebel stronghold of Slovyansk, were seen relaxing near the barricades or engaging in shooting drills.
Vladislav Seleznev, the spokesman for Ukraine's operation in the east, said rebel forces attacked a Ukrainian base north of Slovyansk late Monday but there had been no fighting overnight.
But at another government-controlled checkpoint just outside of Slovyansk, troops said they had come under sniper attack Tuesday morning.