Russian police disperse gay rally in Moscow, detain at least a dozen protesters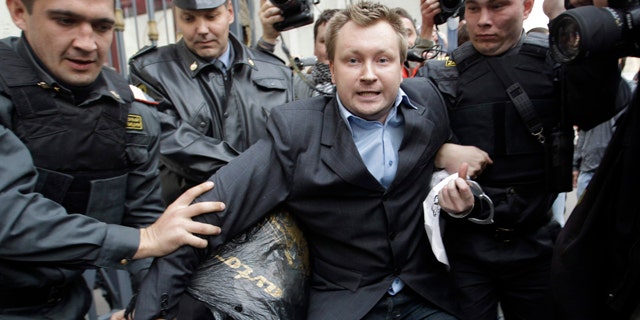 MOSCOW – MOSCOW (AP) — Police dispersed a gay rally Tuesday and detained at least a dozen protesters in the Russian capital.
The two dozen demonstrators had been protesting the policies of Moscow Mayor Yuri Luzhkov, who has called homosexuals "satanic" and thwarted attempts to hold a gay pride rally in the city.
Police detained most, if not all, of those participating in Tuesday's rally, which was held without a required permit near city hall.
The activists handcuffed themselves to a monument for the 13th-century Russian prince who founded Moscow, displayed a papier-mache mummy resembling Luzhkov and unfurled posters ridiculing the mayor and his billionaire wife, Yelena Baturina.
The activists said they objected to Luzhkov's recent use of the word "fag," and a court's subsequent ruling that the word could not be deemed offensive.
Homosexuality was decriminalized in Russia in 1993, but anti-gay feelings remain strong. The country's dominant Orthodox Church condemns gay lifestyle, and Orthodox activists have participated in dispersing previous gay rallies.
Activist Nikolai Alexeyev said in a telephone interview from inside a police van that he knew Tuesday's rally would not be allowed.
"I had no hope it would end peacefully," he said. "This lawlessness will go on as long as this lowlife rules the city."
Luzhkov has been under increasingly strong pressure to resign in recent weeks, and a string of television shows on national television criticized him and his wife for alleged corruption and cronyism.
Last week, Alexeyev claimed he was kidnapped from a Moscow airport and held for more than two days by men he alleged were security agents.
Russian officials were not available for comment.