Russian opposition mounts massive anti-Putin rally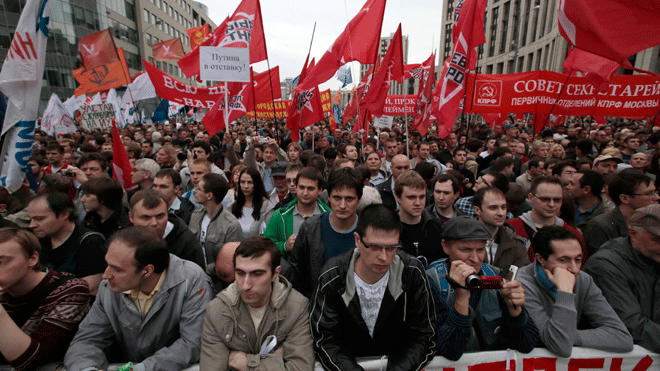 MOSCOW – Tens of thousands of people marched across downtown Moscow on Saturday in the first major protest in three months against President Vladimir Putin, defying the Kremlin's efforts to muzzle dissent.
Leftists, liberals and nationalists mixed up with students, teachers, gay activists and others on the capital's tree-lined boulevards, chanting "Russia without Putin!" and "We are the government!"
The demonstration showed that opposition sentiment has remained strong, despite the government's efforts to stem the protest movement that had fielded more than 100,000 people to the streets last winter in a series of massive protests against Putin's election to a third presidential term.
Putin has taken a tougher course against the opposition since his inauguration in May with a series of new repressive laws, arrests and interrogation of activists. In August, a court handed two-year prison sentences to three members of the punk band Pussy Riot for performing an anti-Putin song inside Moscow's main cathedral. Some activists on Saturday carried big balloons with balaclava masks painted on -- the band's trademark headwear.
"It's necessary right now for all Russians to come out into the streets in order to show the regime that changes are needed in our country, and that without that our country can't develop," said teacher Valentina Merkulova, who participated in Saturday's protest. "The most important thing is that, the more Russians come out, the less bloody the change of regime, the change of power, a change of power is necessary."
A day before the rally, parliament expelled an opposition lawmaker who angered the Kremlin by joining the protest movement. The vote to oust Gennady Gudkov over allegations of running a business in violation of parliament rules -- charges Gudkov called "a sham" -- angered many, possibly helping beef up the ranks of protesters.
The vote deprived Gudkov, a KGB veteran like Putin, from his immunity from prosecution and his supporters fear he could be arrested.
His son Dmitry Gudkov, also a lawmaker, said he hopes the Kremlin wouldn't dare to put his father in prison after seeing the protesters' strength. "They will have to either think about serious reforms and end their repressions, or they will come to a very bad end," he said.
The rally appeared to be as big as the last major protest in June, which attracted tens of thousands.
"We have to defend our rights which we were deprived of, the right to have elections. We're deprived of honest elections and an honest government," said opposition activist Alexander Shcherbakov. "I'm coming to show that and to demonstrate that the people are against. I'm opposed to illegitimate government and illegitimate elections."
About 7,000 police officers were deployed to maintain security Saturday along the route of the march, which has been authorized by the city government, and a police helicopter was hovering overhead.