Russian opposition leader convicted of embezzlement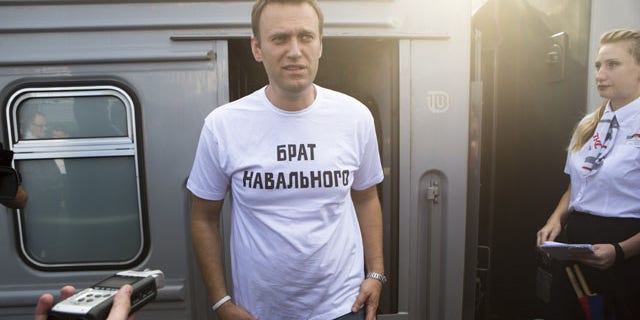 MOSCOW – A Russian judge on Thursday found opposition leader Alexei Navalny guilty of embezzlement and sentenced him to five years in prison.
It was Navalny who called the dominant United Russia party "the party of crooks and thieves," a phrase that became a rallying cry for the nascent opposition to Vladimir Putin.
Judge Sergei Blinov did not immediately state the prison sentence. Under Russian court proceedings, full verdict readings can take several hours.
Navalny was found guilty of heading a group that embezzled 16 million rubles ($500,000) worth of timber from state-owned company Kirovles in 2009 while he worked as an unpaid adviser to the provincial governor in Kirov, about 470 miles east of Moscow.
That was the same year that Navalny, a lawyer, started an anti-corruption blog that attracted a wide following and propelled him into becoming a key opposition figure.
He was a top leader of the wave of massive protest rallies that broke out in late 2011 after a national parliamentary election scarred by allegations of widespread fraud.
More recently, he pushed his ambitions by declaring himself a candidate for this fall's Moscow mayoral election.
The conviction does not immediately nullify his candidacy. That wouldn't happen until his defense team exhausted its appeals, which could take several months.
It's unclear whether the conviction would intimidate his supporters or undermine the activists who have coalesced around him.
Navalny had long said he expected to be convicted, and in a final blog post before leaving Moscow for Kirov, he downplayed his personal importance to the wider opposition.
"The most important thing is to muster up the strength, shake off laziness and do something. This doesn't require any leadership as such," he wrote.