Russian journalist used swine blood, makeup artist to fake death, watched 'murder' coverage in morgue
NEWYou can now listen to Fox News articles!
The fierce anti-Kremlin Russian journalist who worked with authorities in Ukraine to fake his own death revealed Thursday he watched reports of his "murder" while at the morgue.
Arkady Babchenko, 41, told reporters at a news conference in Kiev he used a makeup artist and pig blood to make it look like he had been shot, and was taken to a morgue in an ambulance. He then changed clothes and watched reports of his "violent" death on television, according to Sky News.
Babchenko said that he could have refused when Ukrainian officials approached him with the idea for the ruse about a month ago, but he acted on his own volition.
"Everyone who says this undermines trusts in journalists: What would you do in my place, if they came to you and said there is a hit out on you?" he said Thursday.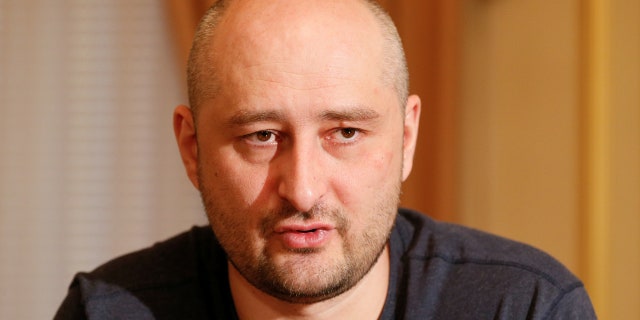 The journalist added that he is now living in a guarded place, and his first priorities were staying alive and protecting his family.
The head of Ukraine's security service, Vasyl Grytsak, said the movie-like plot was justified because it meant that he and his team were "able to foil a cynical plot and document how the Russian security service was planning for this crime," Reuters reported.
Ukrainian officials said the fake murder was to trace a trail back to Russia, and expose plans for other state-sponsored assassinations. To make the death seem convincing, a picture of Babchenko lying in a pool of blood was released, police made a series of statements about their investigation and even issued a sketch of the killer.
"I am absolutely convinced there was no other way. You're a great guy," Ukrainian President Petro Poroshenko told Babchenko in a video released Wednesday, according to Reuters.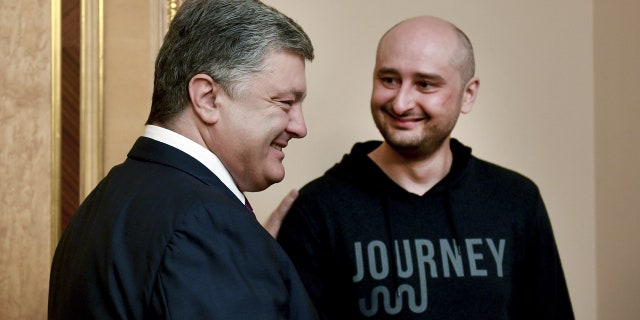 ANTI-KREMLIN RUSSIAN JOURNALIST'S DEATH IN UKRAINE WAS FAKED, USED TO THWART MURDER PLOT, OFFICIALS SAY
But some criticized the incident as a stunt in poor taste that sparked a false outpouring of grief and finger-pointing at Russia.
Harlem Desir, the representative on media freedom for the Organization for Security and Co-operation in Europe, had flown to Kiev to meet Babchenko's colleagues in a show of solidarity.
"Relieved that Arkadiy #Babchenko is alive!" Desir tweeted. "I deplore the decision to spread false information on the life of a journalist. It is the duty of the state to provide correct information to the public."
Russian officials reacted to the plot by saying "Thank God" the journalist was alive, but that the stunt does not change the view that Ukraine is a "country dangerous for journalists."
"This incident is strange, to say the least," Russian Presidential Spokesman Dmitry Peskov told the TASS News Agency. "I don't know whether the ends justify the means in this particular case."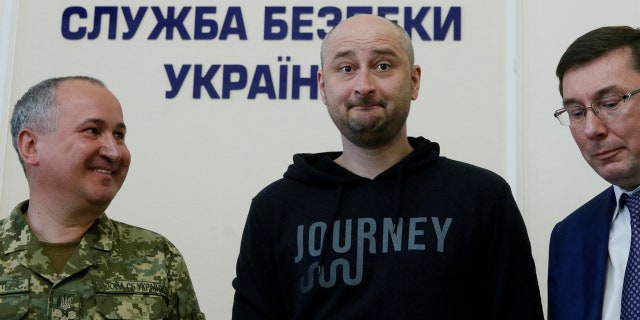 But Babchenko thanked the Ukrainian security services for saving his life, defending their actions on Wednesday.
"The English press says operation has done more harm than good?" he said on Facebook, according to Reuters. "You want good? Give me a UK passport and protection. And then you can lecture me how to save my family."
The Associated Press contributed to this report.