Russia upset over being blocked from Syria chemical weapons investigation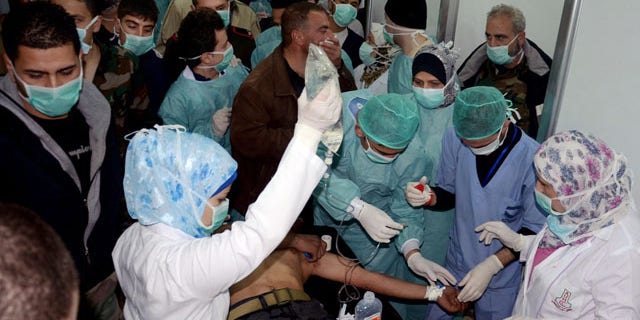 NEWYou can now listen to Fox News articles!
Russia has protested the U.S.' refusal to allow its inspectors to participate in a formal investigation into a chemical weapons attack that struck the rebel-held town of Khan Sheikhan in northern Idlib, Syria, earlier this month.
According to Reuters, Russian Foreign Minister Sergey Lavrov and U.S Secretary of State Rex Tillerson discussed the matter in a phone call on Friday, with Tillerson reinforcing his backing of the current investigative system carried out by the Organization for the Prohibition of Chemical Weapons (OPCW).
As it stands, OPCW – an independent international watchdog – is probing the source of the attack and is expected to issue a report within the next two weeks.
Despite predictions that Trump's election to the White House would usher in a new era of strong ties between the two countries, the President said last week that relations with Russia "may be at an all-time low."
U.S officials have unequivocally blamed the Syrian government for the chemical attacks, in which the use of the nerve agent sarin is suspected. Yet Moscow has staunchly defended its Damascus allies, instead pointing the finger at rebels battling the regime.
After sarin struck other opposition-controlled areas outside of Damascus in 2013, igniting international outrage, Syrian President Bashar Assad – while denying responsibility – agreed to declare and dispose of its some 1,300 tons of chemical weapons – including sarin, VX and mustard gas. Under the guise of Russian leadership, the entire stockpile was said to have been destroyed.
THE LATEST: NO RUSSIAN TROOPS FOR SYRIA'S ASSAD IN IS FIGHT
SYRIAN OPPOSITION OFFICIAL SHARES HIS GROUP'S VISION, DETAILS MISTAKES
However, various violations have since been reported and Israel defense officials last week cautioned that Assad's forces still possess up to 3 tons of such toxic weapons. Former Brig. Gen. Zaher al-Sakat also told Fox News that he believed the government had retained much of its chemical arsenal despite the agreement, with some of it in the offshore protection of allies Iran and the Lebanese Shia militia, Hezbollah.
And while peace seems a far-fetched ideal in war-ravaged Syria and Moscow-Washington ties are less than stellar, Russia has agreed to participate in talks with the U.S and the United Nations in Geneva this week in yet another effort to bring an effort to the more than six-year civil war that has killed hundreds of thousands and displaced up to half its population.