Russia pulls most troops from Ukraine border, Pentagon says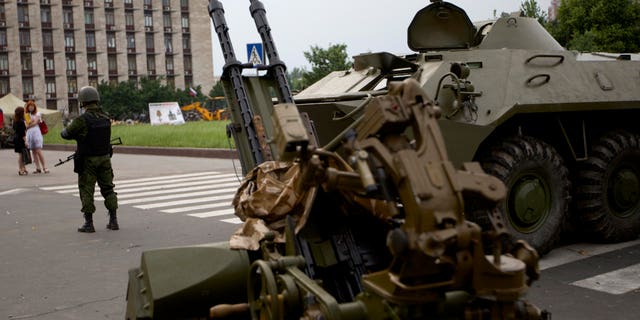 A Pentagon spokesman says a majority of pro-Russian forces are pulling back from the Ukrainian border and returning to their home bases, a withdrawal that the U.S. has been demanding for weeks and a move that Defense Secretary Chuck Hagel called "promising."
"I can confirm that at least two thirds of the Russian forces have repositioned off the border and we are continuing to monitor," Pentagon spokesman Col. Steve Warren told reporters Friday.
"The remaining forces appear to be packing up and preparing to depart the border as well. We welcome this. That said, it doesn't change the fact that the Russians for the last several months have radically destabilized the situation in Ukraine. They still maintain a significant force presence in Crimea and we continue to call on them to work to stabilize Ukraine, to prevent militants from flowing into Ukraine and to help bring a peaceful resolution," Col. Warren said.
A senior defense official traveling with Defense Secretary Hagel told The Washington Post that approximately seven Russian battalions remain of those that were deployed to the east and south of Ukraine, amounting to a couple of thousand troops.
U.S. officials had previously estimated as many as 40,000 Russian forces had been aligned along the border with a restive eastern Ukraine that has been wracked with violence between government security forces and pro-Russian separatists.
Hagel didn't provide any details to reporters traveling with him en route to an Asian defense conference in Singapore at the start of a 12-day overseas trip which will include a meeting with NATO defense ministers in Brussels next week. However, he called the withdrawal promising.
"They are not where they need to be and won't be until all of their troops that they positioned along that border a couple of months ago are gone," Hagel told The Associated Press.
"We do know that thousands of Russian troops have been pulled back and are moving away. But we also know that there are still thousands of Russian troops still there that have not yet moved," Hagel said.
Hagel said he has not spoken to his Russian counterpart about the withdrawal.
Ukraine's acting defense minister said Friday that Ukrainian forces would continue their military offensive against rebels in the east until order is restored there, Reuters reported.
``Our given task is to bring peace and order to the region,'' Acting Defense Minister Mykhailo Koval said.
Hagel and other Obama administration officials also expressed new concerns about rising violence in eastern Ukraine, including the downing of a military helicopter by pro-Russian rebels Thursday that left 15 dead, according to Ukraine's acting president. President-elect Petro Poroshenko swore to punish those responsible for downing the helicopter.
The White House and State Department both said a de-escalation of the crisis was imperative and called on Russia to exert pressure on the separatists to get them to end the fighting and release a group of international monitors who have been detained in eastern Ukraine since earlier this week.
NATO Secretary-General Anders Fogh Rasmussen said the recent Russian troop withdrawal was far more significant than NATO previously estimated, but was not complete.
``We welcome what we have seen but we continue to urge Russia to pull back all troops from the Ukrainian border,'' Rasmussen told Reuters Friday.
Rasmussen also announced that ambassadors from NATO countries and Russia would meet in Brussels Monday to discuss the security situation in and around Ukraine.
Meanwhile, the Organization for Security and Cooperation in Europe has lost contact with a five-member team in east Ukraine, where four members of another OSCE mission are still being held by pro-Russian rebels. The OSCE's teams are in Ukraine to monitor the security situation following the violence between pro-Russia separatists and Ukrainian forces.
The OSCE said it had lost contact with the team of four international workers and one Ukrainian translator, late Thursday, according to a statement online Friday. The OSCE has been without contact with another four-member team since Monday.
A rebel leader confirmed Thursday that monitors from the first group were in their custody. The insurgents assured journalists they would "deal with this and then release them," but did not give details as to when.
The White House and State Department said insurgents detaining OSCE observers is unacceptable and demanded their immediate release.
The Associated Press contributed to this report.