Russia Positions Warheads Near NATO Allies, Fueling U.S. Concern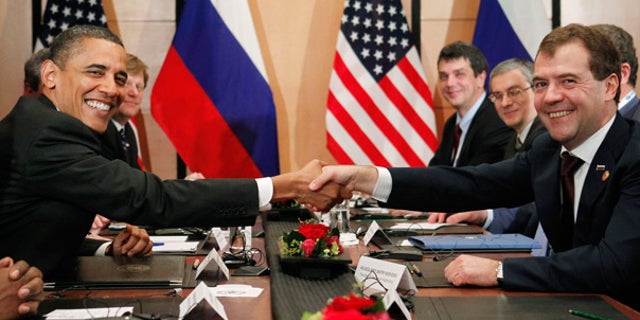 The U.S. believes Russia has moved short-range tactical nuclear warheads to facilities near North Atlantic Treaty Organization allies as recently as this spring, U.S. officials say, adding to questions in Congress about Russian compliance with long-standing pledges ahead of a possible vote on a new arms-control treaty.
U.S. officials say the movement of warheads to facilities bordering NATO allies appeared to run counter to pledges made by Moscow starting in 1991 to pull tactical nuclear weapons back from frontier posts and to reduce their numbers. The U.S. has long voiced concerns about Russia's lack of transparency when it comes to its arsenal of tactical nuclear weapons, believed to be many times the number possessed by the U.S.
Russia's movement of the ground-based tactical weapons appeared to coincide with the deployment of U.S. and NATO missile-defense installations in countries bordering Russia. Moscow has long considered the U.S. missile defense buildup in Europe a challenge to Russian power, underlining deep-seated mistrust between U.S. and Russian armed forces despite improved relations between political leaders.
The Kremlin had no immediate comment.
Republican critics in the Senate say it was a mistake for President Barack Obama to agree to the new Strategic Arms Reduction Treaty with Russia, or New Start, without dealing with outstanding questions about Moscow's tactical nuclear weapons. New Start would cap the Russian and U.S. deployed strategic nuclear arsenals at 1,550 per side. It doesn't address tactical weapons, which are smaller and for use on a battlefield.
Senior administration officials say New Start, like most arms treaties before it, deals only with strategic nuclear weapons, adding that only after it is ratified can Washington and Moscow begin to negotiate a legally binding, verifiable treaty to limit tactical warheads in Europe.
The positioning of Russian tactical nuclear weapons near Eastern European and the Baltic states has alarmed NATO member-states bordering Russia. They see these as potentially a bigger danger than long-range nuclear weapons. Tactical weapons are easier to conceal and may be more vulnerable to theft, say arms-control experts.
Lithuanian Foreign Minister Audronius Azubalis said he raised concerns about the weapons this month with Secretary of State Hillary Clinton and senior defense officials in Washington.
Continue reading at The Wall Street Journal