Russia likely conducted deadly airstrike on Syrian military base, US official says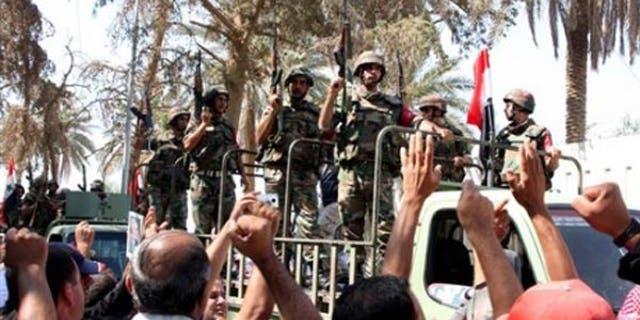 It is "highly likely" Russia carried out an airstrike on a Syrian military base, allegedly killing soldiers, a U.S. official told Fox News Monday.
A spokesman for the U.S.-led coalition denied responsibility. "The closest target we struck that day was a target 55 km [34 miles] away," Col. Steve Warren said from Baghdad.
Syrian government officials claimed Sunday's strike killed three soldiers and wounded 13, and they sent a protest letter to the United Nations over the incident.
The Russian Air Force released video in the last week showing purported strikes on oil fields in eastern Syria. Russia is not a part of the U.S.-led coalition and does not share targeting data with the U.S. military.
Russia conducts a vast majority of its strikes using unguided or "dumb bombs," far less accurate than precision laser-guided munitions used by the U.S. military.
In the letter sent to the U.N. and published in Syrian state media on Monday, the government in Damascus said four aircraft belonging to the U.S.-led coalition targeted the army camp in the eastern city of Deir el-Zour.
In addition to the casualties, it said the attack destroyed armored and other vehicles and a weapons and ammunition depot. The city, in the province also called Deir el-Zour, is mainly in the hands of ISIS but the Syrian government still holds some parts of the city.
"This hampers efforts to combat terrorism and proves once again that this coalition lacks seriousness and credibility to effectively fight terrorism," the Syrian letter said.
According to a statement from the Combined Joint Task Force, "We take all allegations of potential collateral damage seriously and will look into every allegation we receive."
The Syrian Observatory for Human Rights, which tracks the Syrian conflict through a network of activists on the ground, also reported the incident.
According to the Observatory, in Syria's overcrowded skies, the aircraft behind the incident in Deir el-Zour are "believed" to belong to the anti-ISIS coalition targeted.
The planes hit the camp known as "Sa'iqa,"the Observatory said, though it gave a slightly different account for its location, saying the camp is near the village of Ayyash in the western countryside of Deir el-Zour.
The U.S.-led coalition has been striking at ISIS targets in Syria for the past year. France and the United Kingdom have recently joined in and have carried out airstrikes of their own in Syria.
Since the end of September, Russian planes have also pounded ISIS and other insurgents in Syria fighting to topple President Bashar Assad.
Fox News' Lucas Tomlinson and The Associated Press contributed to this report.