Russia criticizes Turkey's request for NATO missiles on Syrian border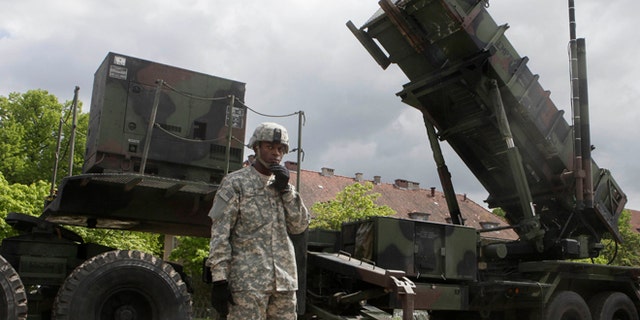 BRUSSELS – Moscow is criticizing Turkey's request to NATO for missiles to defend against Syria's civil war spilling over the border, as Russia's Foreign Ministry accused Turkey of "muscle flexing."
"The militarization of the Syrian-Turkish border is an alarming signal," spokesman Alexander Lukashevich said. "We have different advice for our Turkish colleagues -- use their influence with the Syrian opposition to accelerate the start of a political dialogue."
The Russian reaction could further complicate international efforts to deal with the increasingly volatile conflict.
Even if NATO quickly approves Turkey's request for the deployment of Patriot missiles on its border with Syria, winning parliamentary approval, selecting sites for the air defense batteries and transporting them there means they probably wouldn't be operational for weeks.
Syria's civil war has left Turkey the target of artillery and mortar fire. Syria is believed to have several hundred ballistic surface-to-surface missiles in its arsenal capable of carrying chemical warheads.
Germany, the Netherlands and the U.S. have the advanced PAC-3 model Patriots that Turkey wants for intercepting ballistic missiles, but if they come from the two European countries, their parliaments may have to vote on that first.
NATO said Wednesday it will consider Turkey's request "without delay," and next week a NATO team will visit the alliance member for a site survey to consider a deployment. Officials say the Patriots would probably be sent by sea.
With events in Syria changing rapidly, and deaths already having occurred on the Turkish side of the border, the wait may leave NATO-member Turkey anxious about its vulnerability to air raids or even chemical attack from across the border.
President Bashar Assad's embattled regime is believed to have one of the largest chemical weapons stockpiles in the world. Fears have risen that a cornered Assad might use them or that they could fall into the hands of extremists, including al-Qaida-inspired militants among the rebels.
Due to the complexity and size of the Patriot batteries, their radars, command-and-control centers, communications and support facilities, they cannot be sent quickly by air to Turkey, officials said.
"These are not drop-and-go systems," said an official who could not be identified in line with standing NATO regulations.
Additional time will be needed to install the systems, realign their radars and link them into Turkey's air defense network before the Patriots can be considered fully operational, the official said.
Speaking to reporters in Pakistan on Thursday, Turkish Prime Minister Recep Tayyip Erdogan said Thursday that the deployment was for defensive purposes only.
"This is a measure being taken against certain possible attacks from (the Syrian) side," Erdogan said, according to Turkey's state-run Anadolu Agency.
During the Iraq wars in 1999 and 2003, when the Netherlands dispatched Patriot batteries to protect Turkey's border with that nation, the systems were transported by ship and then by road. They took between six weeks and two months to become operational.
No missiles were fired during those conflicts and the batteries were withdrawn soon after the U.S.-led invasion toppled Saddam Hussein's regime.
Unlike Hussein's Iraq, Syria has never used chemical weapons. Analysts say the bigger threat is that the weapons fall into the wrong hands.
Such worries over the fate of advanced weaponry were highlighted last month, when a shadowy militant group known as Jabhat al-Nusra joined Syrian rebels in seizing a government missile defense base.
The Associated Press contributed to this report.