Ruling Islamists accept plan to resolve Tunisia crisis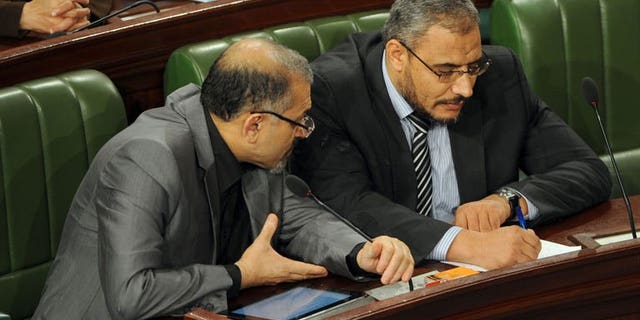 NEWYou can now listen to Fox News articles!
TUNIS (AFP) – Tunisia's ruling Islamist party announced Friday it has accepted an ambitious roadmap proposed by mediators to form a government of technocrats and resolve the country's two-month-old political crisis.
"Ennahda announces after examining the proposal... its acceptance and demands that a serious national dialogue is launched to get the country out of the political crisis," the party said in a statement.
The opposition has yet to declare its position on the initiative, drawn up by Tunisia's powerful UGTT labour union and presented on Tuesday, which envisages a tight timetable for the formation of a new cabinet, the adoption of a draft constitution and fresh elections.
Tunisia's political crisis was triggered by the July 25 assassination of opposition MP Mohamed Brahmi, an attack that was blamed on militant Salafists and sparked opposition calls for the government's immediate resignation.
The roadmap, prepared along with other mediating groups, requires the two sides to meet for a national dialogue attended by President Moncef Marzouki and Prime Minister Ali Larayedh, where the Islamist-led government will formally agree to its replacement within three weeks by a cabinet of independents.
At the same time, it requires the National Constituent Assembly (NCA) to approve an electoral law and commission, draw up the timetable for the parliamentary poll and adopt a new constitution whose drafting has been blocked for months by political wrangling.
The UGTT is due to held a press conference on Saturday morning to announce the result of its latest bid to mediate an end to the crisis. A previous attempt failed earlier this month.
Since the start of the crisis, Tunisia has been rocked by a wave of opposition protests demanding the resignation of the Islamist-led government and the dissolution of the NCA.
Ennahda refuses to resign before agreement has first been reached on outstanding political differences, including on the content of the new constitution and an election timetable.
The opposition say Ennahda has failed to rein in jihadists, whose influence has grown since the 2011 uprising that toppled the former regime, and has not improved social conditions in Tunisia.