Rudd's return revives Australia's Labor: poll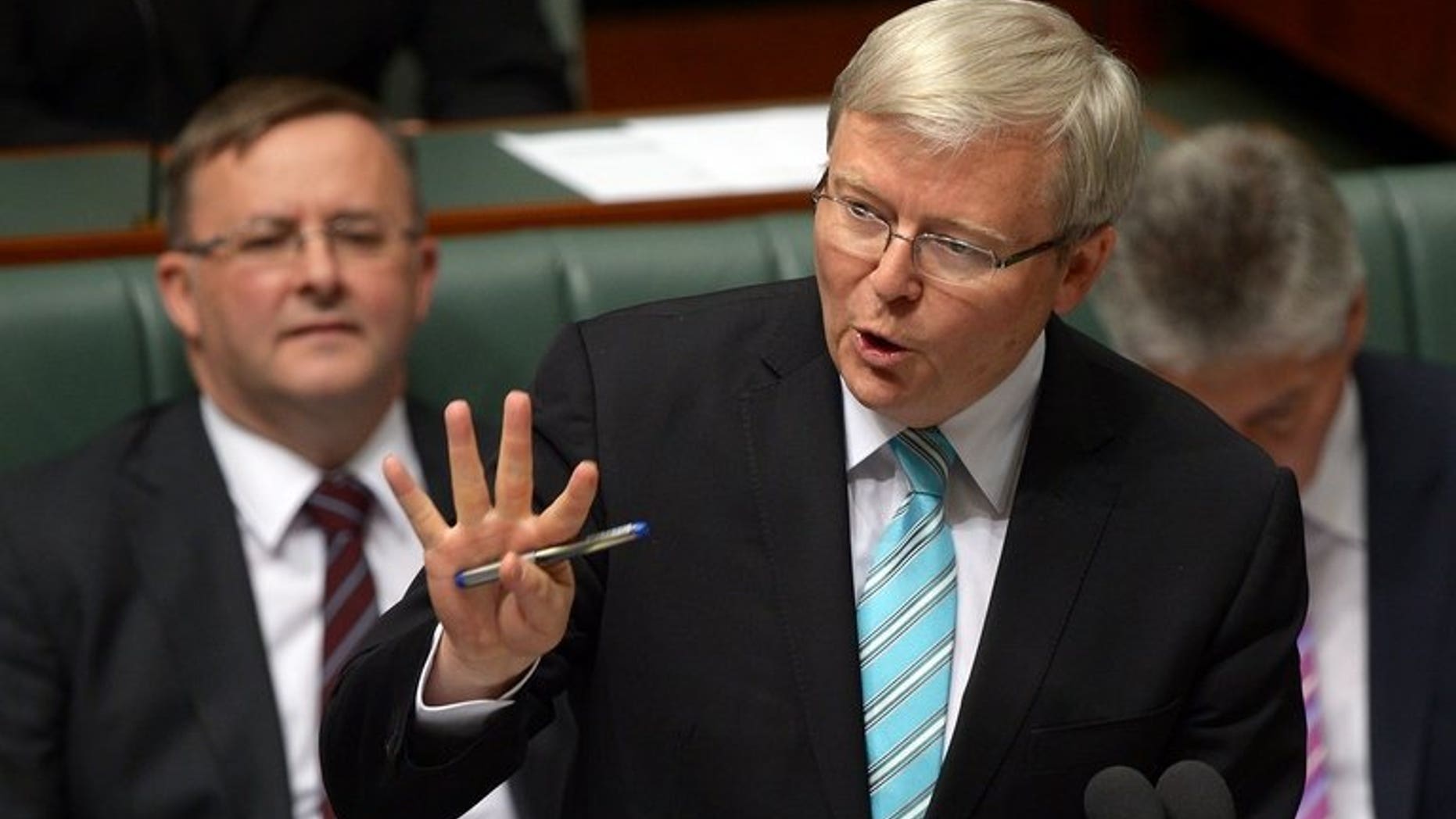 SYDNEY (AFP) – The dramatic return of Australian Prime Minister Kevin Rudd has delivered his flagging Labor party a six-percentage-point bounce, according to polls that also showed him as preferred leader over Tony Abbott.
Rudd, popularly elected to top office in a landslide 2007 election win, seized back the prime ministership on Wednesday in a snap leadership ballot which dislodged Julia Gillard, his former deputy.
Gillard deposed Rudd in a ruthless coup shortly before the 2010 elections after the party lost faith in his ability to win Labor a second term.
It was a fate revisited upon her this week, with a nervous Labor again switching leaders in a bid to boost its hopes ahead of national elections on September 14.
Early signs are that it may pay off, with a survey of 3,018 voters conducted by polling firm ReachTEL for the Seven television network rating Labor as has having a 48 percent chance against the opposition's 52 percent. Labor's polling was six points ahead of Gillard's 42 percent in May.
"I think we're doing OK but we've got a long, long way to go," said Rudd when asked about the numbers.
Though his party still lags behind the Liberal-National opposition, Rudd outpolled Abbott as preferred prime minister 51.6 percent to 48.4 percent, compared with Gillard's 40.6 percent.
Those surveyed were divided on whether Labor had done the right thing by axing Gillard -- 44.1 percent agreed, 42.4 percent disagreed and 13.5 percent were undecided.
A majority, 56.9 percent, said they still didn't think Labor could win with Rudd in charge.
Separate ReachTEL surveys in four key electorates in Sydney and Melbourne, published Saturday in Fairfax newspapers, gave Labor a 10 percentage point boost from Rudd's return. There were 650 voters polled in each seat.
"We now have a contest," said Fairfax journalist Tim Colebatch.
"It is a contest the (opposition) coalition is still likely to win. But now it will have to work for it."
The reinstalled prime minister hit the hustings Saturday, touring the Blue Mountains west of Sydney with Labor's candidate to meet voters.
He also confirmed that he would travel to Indonesia next week for annual talks with President Susilo Bambang Yudhoyono in which Gillard had been scheduled to participate.
Seeking to highlight his strengths Rudd, formerly foreign minister, put foreign policy at the centre of his election agenda in his first press conference Friday, highlighting relations with Beijing and Jakarta.
He accused Abbott of risking conflict with Indonesia with his plan to tow back asylum-seeker boats originating in the Southeast Asian nation, a course that has not been welcomed by Yudhoyono's government.
The opposition criticised it as an "outrageous" gaffe, but the prime minister stood by his remarks Saturday.
"My responsibility as prime minister is to ensure we have a first-class relationship with 250 million people in Indonesia, a country which constitutes our most important neighbour," he said.
Rudd said Abbott had yet to explain what would happen when a boat sank while being towed, or Indonesian vessels pushed one back.
"Either it is a fair dinkum policy or it's simply codswallop to try and win some votes," he said.
Asylum-seeker boat arrivals are a politically sensitive issue in Australia and sure to be prominent in the election campaign, with both sides promising a tough stance.