Royal Newlyweds Leave for Secret Honeymoon Location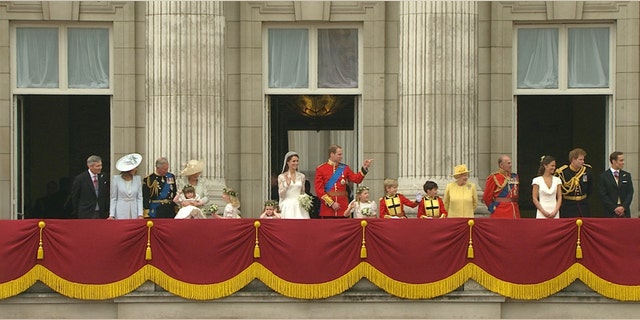 LONDON -- Newlyweds Prince William and Kate Middleton are preparing to leave London this weekend for what is expected to be a two-week honeymoon after a spectacular wedding day and late night parties that ended early Saturday.
Their destination is a closely held secret. Palace officials say only that William has asked for a two-week leave from his military work as a Royal Air Force helicopter rescue pilot based in Wales.
The couple have a wide range of honeymoon options, including a stay at Queen Elizabeth II's vast Balmoral Estate in Scotland, where they would likely have the privacy needed to evade paparazzi.
William at one pointed hinted he might take Middleton, now known as the Duchess of Cambridge, to Australia for a scuba-diving honeymoon, but it is also possible they would opt for a private island in the Caribbean, an African hideaway or an outdoorsy trip to Jordan that would include a visit to Petra.
The honeymoon is expected to be briefer than that of William's parents, Prince Charles and the late Princess Diana, who combined a two-week Mediterranean cruise with several extended breaks in Britain.
William and Middleton celebrated their wedding in style Friday night and Saturday morning with a dinner and dance party at Buckingham Palace hosted by Charles.
Middleton wore a second gown designed by Sarah Burton of the Alexander McQueen fashion house, while William wore a double-breasted tuxedo.
Some of the prominent guests, including Middleton's sister Pippa and Prince Harry's sometimes girlfriend, Chelsy Davy, returned to their rooms at the Goring Hotel at about 3 a.m. Saturday as the palace celebrations wound down.
Harry had announced plans to make an early morning "fry up" breakfast for anyone with the constitution to stay awake through the night, but it is not known how many hungry partygoers he fed.
There was no fear about keeping quiet to avoid waking grandma -- Queen Elizabeth II and her husband Prince Philip had left the palace to the kids and retreated to another royal residence.
There were few signs of activity Saturday morning after the party ended, but Charles was up early to reclaim his rare Aston Martin Volante convertible, which he had loaned to William and Middleton on their wedding day.
William and Middleton dazzled crowds outside Buckingham Palace when the prince emerged from the gates at the wheel of the car, which had balloons on the back and a "Just Wed" license plate, to drive his new bride to their official residence nearby Friday afternoon.
The often contentious British press pronounced the wedding day an unqualified success, filling special souvenir editions with dozens of photos from a day that saw an estimated 1 million people throng the streets and parks of London to celebrate.