Ronald Reagan Statue Unveiled in Hungary Honoring Late President's Leadership in Ending Communism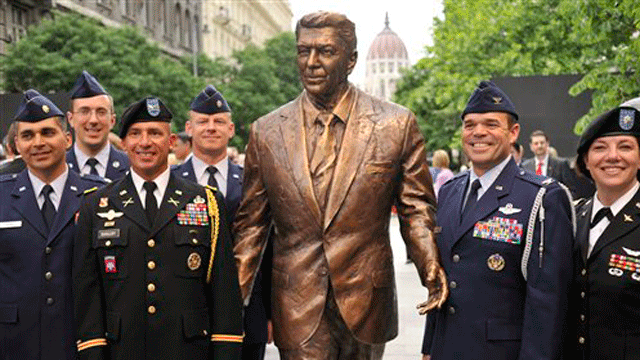 BUDAPEST, Hungary – A statue of former U.S. President Ronald Reagan was unveiled Wednesday in Hungary's capital, where he was honored for his leadership in helping to end communism.
The bronze 2-meter (7-foot) likeness of the 40th president was erected in Budapest at Freedom Square, near both the U.S.
Embassy and a World War II memorial to Soviet soldiers killed during the ouster of the Nazis from Hungary.
Prime Minister Viktor Orban and former U.S. Secretary of State Condoleezza Rice helped unveil the statue Wednesday.
Reagan was remembered for the aid and encouragement he gave Hungary and other former Soviet satellite states in Eastern Europe to gain back their freedom.
Reagan "changed the world and created a new world for Central Europe," Orban said at the unveiling ceremony. "He tore down the walls which were erected in the path of freedom in the name of distorted and sick ideologies."
Rice said the cause of the freedom fighters in Hungary's failed anti-Soviet revolution in 1956 deepened Reagan's commitment to ending communist rule around the world.
"The men and women of '56 inspired Americans and all free peoples never again to leave those alone who are struggling for their freedom," Rice said. "And they inspired most of all Ronald Reagan."
A large facsimile of Reagan's signature identifies the statue made by Istvan Mate and a touchscreen monitor nearby provides information about Reagan in Hungarian and English.
"The statue is imposing and the touchscreen is a lot of a fun," said Reka Nemeth, a Hungarian teenager visiting the site after the ceremony.
The statue, which shows Reagan in mid-stride, is the second memorial erected in his honor in Budapest, where a bust of the former actor and governor of California was placed in City Park in 2006.
In March, Hungary's postal service also issued a commemorative envelope and postmark celebrating the centenary of Reagan's birth.
For some, the Reagan tributes are excessive.
"We Hungarians have nothing to do with Reagan," the Hungarian Communist Workers Party said in a statement. "During his life, he served not our interests but those of 'American Big Capital' bent on ruling the world."
For others, however, Reagan deserves all the accolades.
"It's better to have two Ronald Reagan statues than none at all," said Marton Baranyi, co-creator of a Hungarian website dedicated to Reagan. "Reagan is a role model for Hungarians."
The unveiling ceremony, which began with the Hungarian and U.S. national anthems performed by a Hungarian military band, was also attended by former U.S. Attorney General Ed Meese, Rep. Kevin McCarthy, the House majority whip, and several members of the Hungarian government.