Rolling Stones set to rock Glastonbury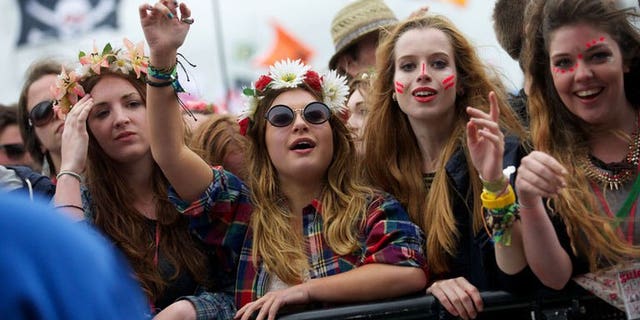 GLASTONBURY, United Kingdom (AFP) – The sun was out on Saturday for Britain's world-renowned Glastonbury festival, drying the mud underfoot as tens of thousands waited for the first ever performance here by the Rolling Stones.
Mick Jagger flew in by helicopter on Friday with his girlfriend, designer L'Wren Scott, ahead of the band's headline show on the Pyramid Stage, their first at Worthy Farm in five decades of performing.
Hundreds of people heralded their arrival with a "Jumping Jack flashmob" in which they mimicked Jagger's trademark dance moves, while the frontman himself proudly tweeted a photo of the luxury yurt where he will be staying.
Scott later tweeted a picture of the 69-year-old at the block 9 area, an apocalyptic spectacle of electronic dance music, sound and lights, and then a backstage shot of the Arctic Monkeys gig.
Some 135,000 revellers have gathered on the sprawling 900-acre site in Somerset, southwest England, for the country's most popular celebration of music and performing arts.
Now in its 43rd year, Glastonbury has lost some of the new age spirituality from its 1970s origins.
There are countless tents offering chargers for mobile phones and there is now formal accommodation ranging from pre-assembled tents to glamorous yurts costing several thousand pounds (dollars).
But there is still something special about the five-day festival, which continues to sell out months in advance despite the inevitable rain and associated mud.
Stones guitarist Keith Richards said the band were destined to make an appearance, despite turning down a slot for many years.
"I look upon it as a culmination of our British heritage really. It had to be done and it's gonna be done, and we'll see what happens, you know," he said in an interview before the show.
The band are due on stage at 9.30 pm (2030 GMT) and the viewing area will be extended amid concerns that too many people are planning to watch a little slice of music history.
The Stones are expected to play for more than two hours, in a performance likely to involve pyrotechnics and special guests -- as well as a mechanical phoenix which has been set up on top of the stage.