Rodman apologizes for not helping American missionary held in North Korea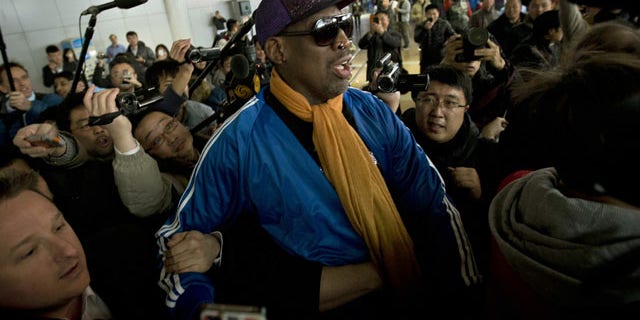 BEIJING – Former basketball star Dennis Rodman apologized on Monday for not being able to help an American missionary detained in North Korea during his trip there to play in a game to celebrate the birthday of his friend and leader Kim Jong Un.
"I'm sorry, I'm sorry I couldn't do anything," Rodman told media on his arrival at Beijing airport from a weeklong trip. "It's not my fault. I'm sorry. I just want to do some good stuff, that's all I want to do."
He said he would return to North Korea next month, but gave no details.
Rodman and the squad of retired NBA players he took to North Korea for an exhibition game marking Kim's birthday have met with criticism in the U.S. because of North Korea's human rights record and its development of nuclear weapons.
Rodman was also slammed for not using his influence with Kim to help free Kenneth Bae, the missionary in poor health who has been detained for more than a year for "anti-state crimes." Rodman apologized last week for comments he made in a CNN interview implying Bae was at fault, saying he had been drinking and was upset because some of his teammates were leaving under pressure.
On Monday, Rodman reiterated that his trip -- in which he sang "Happy Birthday" to Kim before playing the exhibition game at a Pyongyang stadium -- was one of goodwill.
"This is not a bad deal," he said. "I want to show people that no matter what's going on in the world, for one day, just one day, no politics, not all that stuff.
"I'm sorry for all the people and what's going on, I'm sorry," he continued. "I'm not the president, I'm not an ambassador, I'm just an individual that wants to show the world the fact that we can actually get along and be happy for one day."
Rodman and Kim struck up a friendship when the basketball-player-turned-celebrity first traveled to the secretive state last year.