Rocket strikes UAE mission in Libya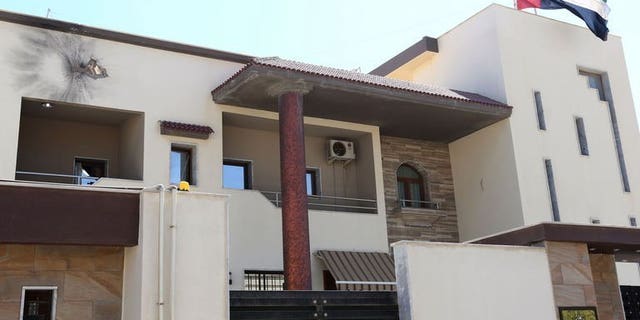 TRIPOLI (AFP) – Unknown attackers fired a rocket at the UAE embassy in Tripoli Thursday but it caused little damage and no casualties, Libya's interior ministry said, in the latest assault targeting foreign missions in the country.
"An RPG (rocket-propelled grenade) was fired on the building which sustained minor damage," said ministry spokesman Rami Said, adding that no one was hurt in the incident.
The attack on the United Arab Emirates embassy in Tripoli's Al-Siyahia area occurred at around 5:30 am (0330 GMT), Said was quoted as saying by Libya's Lana news agency. He said the UAE ambassador was currently out of Libya.
Witnesses said the attackers, who came in a car, fled after firing the RPG at the complex which houses the embassy and the ambassador's residence.
Thursday's attack on the UAE mission was the latest in a series of assaults on foreign embassies and diplomats in Libya.
On Tuesday, a rocket struck an apartment block in the centre of the Libyan capital in an attack that caused no casualties.
The building is located in a residential area of Tripoli between the Corinthia hotel and a tower that houses the British, Canadian and Maltese embassies, as well as foreign companies.
On April 23 a suicide car bomb attack against the French embassy in Tripoli wounded two French guards.
The most brazen incident was on September 11 last year when the US consulate in the eastern city of Benghazi was stormed by Islamist militants in an attack which saw ambassador Chris Stevens and three other Americans killed.