Rob Ford is ready for some football: Embattled Toronto mayor attends Bills-Falcons game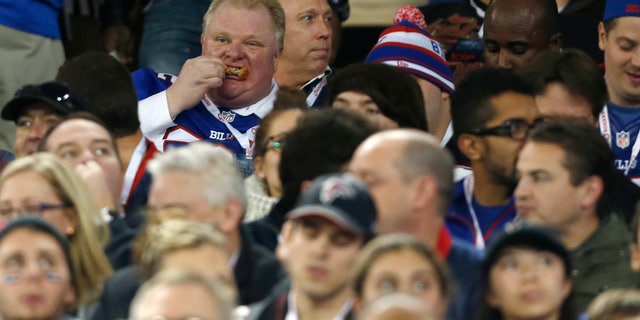 TORONTO – Embattled Toronto Mayor Rob Ford attended Sunday's NFL game between Buffalo and Atlanta, wearing a blue Bills jersey with the name and number of running back Fred Jackson.
With about five minutes left in the first quarter, Ford walked down the aisle behind the Atlanta bench. Fans turned away from the field and took pictures. The mayor arrived just before Jackson scored a touchdown.
At least four Toronto police officers and several stadium security staff were at the entrance to the VIP section where Ford had an aisle seat. They tried to keep fans from approaching for photos and handshakes.
Last month, Ford acknowledged smoking crack in a "drunken stupor" but refused to resign as mayor of Canada's largest city and financial capital.