Roadside Bomb Kills 4 Afghan Civilians on Tractor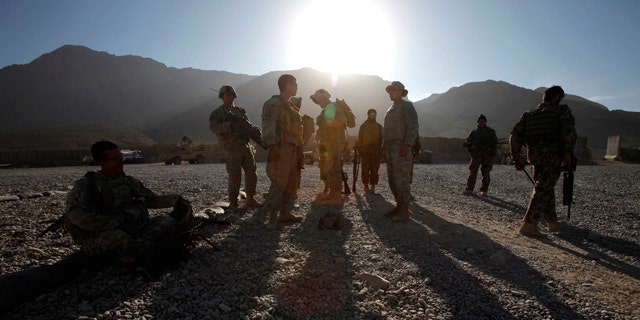 KABUL, Afghanistan -- Homemade bombs killed four Afghan civilians, including two children, riding on a tractor Monday in eastern Afghanistan, while two NATO coalition service members were killed in the south, officials said.
Violence is raging across much of Afghanistan nine years after the U.S.-led invasion.
Washington and its allies want to hand over the country's security to Afghan forces by the end of 2014 and eventually withdraw, but the daily violence shows the challenges of meeting that goal.
The four civilians died in Zurmat district of Paktia province, said Ghulam Dastagir, deputy provincial police chief. He said it was unclear whether the bomb was planted on the road or placed on the tractor itself.
In an overnight operation in the same district, a joint Afghan and NATO force killed Fared Gul, a Taliban fighter involved in planting roadside bombs and organizing attacks on coalition convoys and aircraft, the military alliance said.
In a separate statement, NATO said two international service members were killed in a bomb strike in southern Afghanistan, but provided no other details or the nationalities. So far this month, 45 NATO service members have been killed in the Afghan conflict, including at least 38 Americans.
In eastern Nangarhar province, meanwhile, a suicide bomber detonated his explosives vest Monday while driving a motorcycle down a main road in Mohmand Dara district. It appeared to have been an accident as no obvious targets were nearby, said provincial police spokesman Hazrat Mohammad.
The bomber died in the blast, and two nearby civilians were slightly injured, he added.
Homicide bombers in Afghanistan tend to target government or NATO vehicles, or installations that represent the government such as police stations or schools.
Also in Nangarhar province, some 300 to 400 people protested the capture of nearly a dozen people in an overnight raid in Behsud district, claiming those arrested were not insurgents, said Mohammad. The coalition maintained it had not conducted any overnight operations in the district.
In the south, a man working on a stream clearing project in Kandahar province was killed by an unknown gunman Sunday in front of his children in Zhari district, according to the provincial governor's office. Hundreds of residents are working on redevelopment projects in the area that are being targeted by insurgents trying to stall the Afghan government's effort to gain control of former Taliban strongholds.
During the weekend, two Taliban leaders were killed and two others were captured as part of the NATO coalition's stepped-up campaign against the insurgency's midlevel command structure and its supply lines, the coalition said.
On Sunday, Afghan and coalition forces captured the head of a Taliban bombing ring and several suspected insurgents in the Lashkar Gah district of Helmand province. The bombing cell chief is based in neighboring Kandahar and is responsible for attacks on Afghan civilians and coalition forces. He also is suspected of planning a heavy machine gun ambush on coalition forces, intimidating civilians and training insurgents to execute bomb attacks.
In another operation in Helmand on Sunday, NATO and Afghan forces killed at least three insurgents in a battle that broke out as they searched for a Taliban leader believed to be hiding out in Now Zad district. It was not clear if the targeted leader was among the dead, NATO said.
On Saturday, Hafiz Janan, a Taliban leader involved in training foreign fighters, was killed in the Bakwa district of Farah province in the west. Another Taliban leader was captured in Baraki Barak district of Logar province, south of Kabul.
Separately, seven militants were killed, two were wounded and four were captured during a clearing operation that ended Sunday night in Herat province, said Najibullah Najibi, a spokesman for the Afghan National Army Corps commander for the western provinces. One Afghan soldier was killed and another was injured during the two-day offensive in Pashtun Zarghun district, he said.
And in northern Kunduz province, insurgents attacked a checkpoint set up by a local police force, sparking heavy fighting. Two of the local police were killed, along with 17 of the attackers, said Mohammad Ayub Haqyar, the police chief of Imam Sahib district.