'Rivers Of Fire' In Mexico As Pipeline Explodes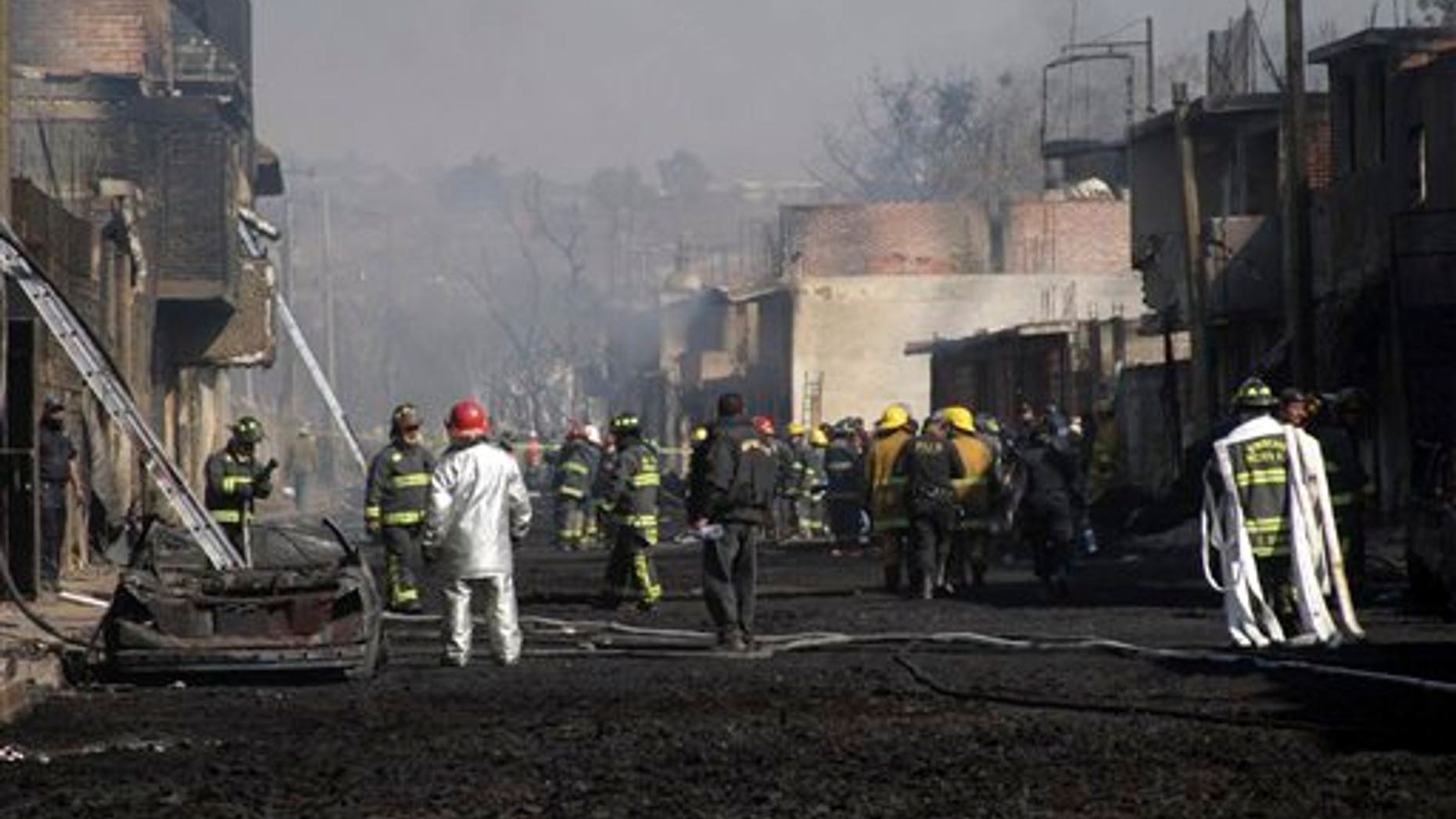 An explosion rippled through central Mexico as a pipeline exploded early Sunday while thieves were trying to steal oil, killing at least 27 people and sending rivers of flaming crude through city streets.
Authorities estimated that the explosion and resulting spill affected a 3-mile radius.
The principal explosion, followed by four additional minor blasts, injured at least 52 people and forced hundreds to flee the city of San Martin Texmelucan, 55 miles east of Mexico City. It also scorched more than 115 homes.
"We saw rivers of fire in the streets," Valentin Meneses, interior secretary for the state of Puebla, where San Martin is located, told Milenio Television.
Television images showed a scorched ghost town of houses, businesses and trees blackened by the huge explosion and a black crude-like substance covering the streets.
Meneses said the explosion, which happened before dawn Sunday, was apparently provoked by thieves trying to steal crude oil.
"They lost control because of the high pressure with which the fuel exits the pipeline," he said, adding that the oil began to flow down the city's streets and into a nearby river.
The state-owned oil company Petroleos Mexicanos, or Pemex, said in a statement that it had shut down the pipeline. Government authorities said the fire was under control by midday, but the area was without electricity or water.
Civil protection authorities, firefighters and military officers are investigating and trying to ensure there are no more explosions. No one has been detained.
Pemex has struggled with chronic theft, losing as much as 10 percent of all of its product.
Criminals tap remote pipelines, sometimes building pipelines of their own, to siphon off hundreds of millions of dollars worth of oil each year, Pemex has said.
In 2009, the U.S. Justice Department said U.S. refineries bought millions of dollars worth of oil stolen from Mexican government pipelines and smuggled it across the border in illegal operations led by Mexican drug cartels expanding their reach.
Two Texas oil company officials were sentenced to probation in September for their roles in the sale of petroleum products stolen from Mexico.
Pemex sued five companies in the U.S. in June for allegedly buying stolen Mexican petroleum products.
Also in June, police arrested 13 people who they said excavated a 500-foot tunnel under a busy neighborhood in Mexico City to steal fuel from oil company pipelines.
The Associated Press contributed to this report.
Follow us on twitter.com/foxnewslatino
Like us at facebook.com/foxnewslatino
Youtube user pacosmjr2