Rioters Clash With Police in Athens During Rally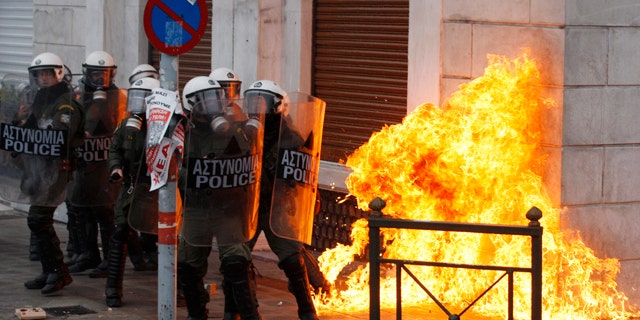 ATHENS, Greece – Hundreds of protesters clashed with riot police across central Athens on Wednesday, smashing cars and hurling gasoline bombs during a nationwide labor protest against the government's latest austerity measures.
Police fired tear gas and flash grenades as the violence escalated outside parliament and spread to other parts of the capital.
Youths wearing black masks and ski goggles used sledgehammers to smash paving stones and hurled the rubble at police. A central post office near parliament briefly caught fire as employees and bystanders ran for safety.
The chaotic clashes were among the worst since the start of Greece's financial crisis, which ignited the European debt crisis and has resulted in wage cuts and a spike in unemployment. In May, three people died in a bank torched by rioters.
Wednesday's violence eurpted after 20,000 protesters marched to parliament during a general strike against a new round of labor reforms. The strike grounded flights, closed factories, disrupted hospitals and hit train and bus services.
Crippled by high budget deficits and a mountain of debt, Greece was saved from bankruptcy in May by an international rescue loan package. In return, the Socialists slashed pensions and salaries, hiked taxes, raised retirement ages and eased restrictions on private sector layoffs.
Late Tuesday, the government won a key vote in parliament on new labor reforms that include deeper pay cuts, salary caps and involuntary staff transfers at state companies. The new law also reduces unions' collective bargaining power in the private sector, allowing employers to substantially cut salaries.
Unions said Wednesday's strike aimed to pressure the Socialist government into slowing down the spending cuts that it said are hurting average Greeks.
"There is huge participation in this strike ... I believe it will put pressure on the government," Stathis Anestis, deputy leader of Greece's largest union, the GSEE, told The Associated Press. "We want the government to take back the latest labor law that will hurt workers' rights."
___
Theodora Tongas ands Thanassis Stavrakis contributed to this report.