Rio police claim victory after invading gang haven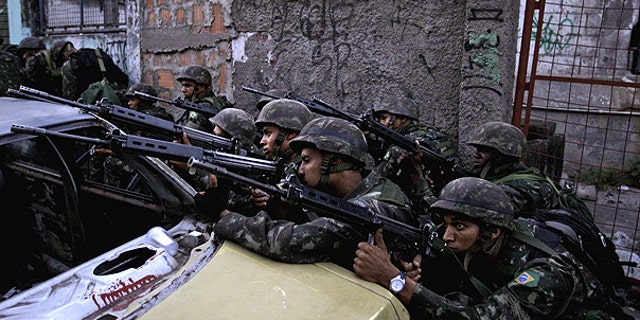 RIO DE JANEIRO – Rio police backed by helicopters and armored vehicles invaded a shantytown complex long held by traffickers on Sunday, quickly taking over the key drug gang stronghold in a historic victory meant to help make the city safe for the 2016 Olympics.
Black-clad officers poured into the Alemao slum complex just after sunrise amid heavy fire, with helicopters flying low to support the men on the ground. But the officers encountered less resistance than expected, even if many gang members still remained inside.
"We won," said Mario Sergio Duarte, head of Rio state's military police. "We brought freedom to the residents of Alemao."
The operation was crucial to the city's campaign to push criminals out of slums where they have ruled with impunity, an effort to secure Rio before the city hosts World Cup matches in 2014 and the 2016 Olympics.
Rio de Janeiro Gov. Sergio Cabral told Globo TV that the campaign will go forward: "We will continue to conquer more territories and give peace to our citizens and the foreign visitors who come here."
The invasion came after gangs unleashed a week of violence in the city of 6 million, with more than 100 cars and buses set on fire — many in protest against police raids of the past two years — and at least 35 deaths, mostly of suspected traffickers.
Sunday's operation gripped the nation's attention. Several networks broadcast it live and a mass calling for peace was celebrated at the base of Rio's iconic Christ the Redeemer statue.
At least two people were in injured in the invasion. A man was shot in the chest and a teenage boy was wounded in the right leg, but their conditions were not immediately available. Authorities said the boy appeared to be a slum resident and the man a suspected gang member.
"When we got in, it was a critical moment, but we now have control of the territory, it's all calm," said police inspector Rodrigo Oliveira. "There is no doubt that Rio residents have reason to celebrate today. The complex was seen as a fortress for drug traffickers and in less than two hours we took control."
Police said they captured large amounts of weapons, ammunition and drugs in the complex, which includes a dozen slums that are home to at least 85,000 people.
Television images showed police entering a four-story home at the top of the slum believed to belong to one of the local drug leaders. Its air conditioners, flat-screen TV, computer, whirlpool, pool and new appliances were a stark contrast to the bare wooden shacks that house most of the area's people.
Some gunmen began to surrender and about 10 were arrested in Sunday's operation, but police were still searching the shacks on the hills of the shantytown to try to find those trying to flee. Earlier, authorities said up to 600 gang members were in the slum.
"We have to be careful because they may be trying to set up traps for our men," Duarte said. But he promised that "we won't leave a place unchecked."
At least five police helicopters buzzed above the Alemao, with armed officers leaning out the open side doors searching for gang members.
Police and troops moved into the slum inside armored vehicles as residents watched from their windows in shacks packed along the hills. Big tracked armored personnel carriers rolled in and out of the slum entrances, carrying soldiers with camoflage-painted faces.
Vehicles from the forestry service carried troops to the jungle areas on the perimeter of the slum to cut back trees and eliminate possible escape routes.
Many residents were thrilled with the police operation.
"Fantastic, this is exactly the thing we needed," said Ana Costa, 48, who lives a block from the slum in the Penha neighborhood.
"This community has been so violent for so long that I never thought that I would see this day," she said as armored vehicles rushed by her house. "I still have my doubts, but I'm praying that peace has finally come here."
Hundreds of soldiers in camouflage, along with elite and regular police had been surrounding the Alemao since Saturday night, sheltering behind the armored vehicles. They exchanged intermittent, heavy gunfire with gang members at many of the 44 entrances to the slum.
As the troops and gangsters faced off, Rio saw its calmest night in a week, with only one volley of gunfire heard overnight in the slum. For the first time in more than a week, no vehicles were burned.
Saraiva said police had given gang members until sunset Saturday to surrender, and he described them as "exhausted, hungry, thirsty, stressed out." But they did not give up, so police moved in.
Authorities had already seized the Vila Cruzeiro slum, which was once thought virtually impenetrable. More than 200 armed gang members fled that offensive and ran to the nearby Alemao.
The human rights organization Amnesty International complained that police had been too heavy-handed in their offensive.
___
Associated Press writer Tales Azzoni in Sao Paulo contributed to this report.