Rights group says 115th stolen child from Argentina's 'dirty war' has been identified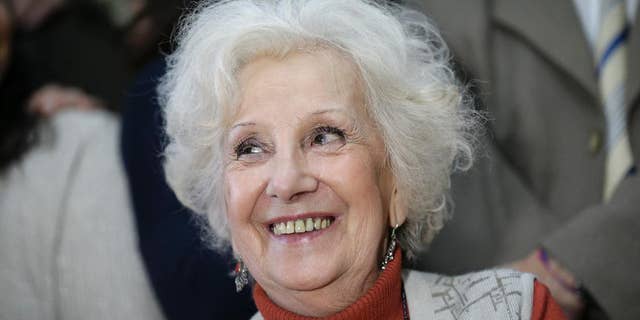 BUENOS AIRES, Argentina – Argentina's leading human rights group says tests have identified the granddaughter of one of the group's late founders, whose daughter gave birth while a prisoner of the 1976-83 military dictatorship and hasn't been seen since.
Friday's announcement comes from Estela de Carlotto, president of the Grandmothers of Plaza de Mayo. Just two weeks ago, de Carlotto surprised Argentines by revealing that she had finally found her grandson born to a daughter slain in 1978 by the junta.
De Carlotto's group believes around 500 children were seized from people killed by the dictatorship and given to couples who supported the government.
The unnamed woman announced Friday is the 115th such child to be identified. Her grandmother was Alicia Zubasnabar de la Cuadra, the Grandmothers' first president who died in 2008.