Rhinos Slaughtered for Horns Worth More Than Gold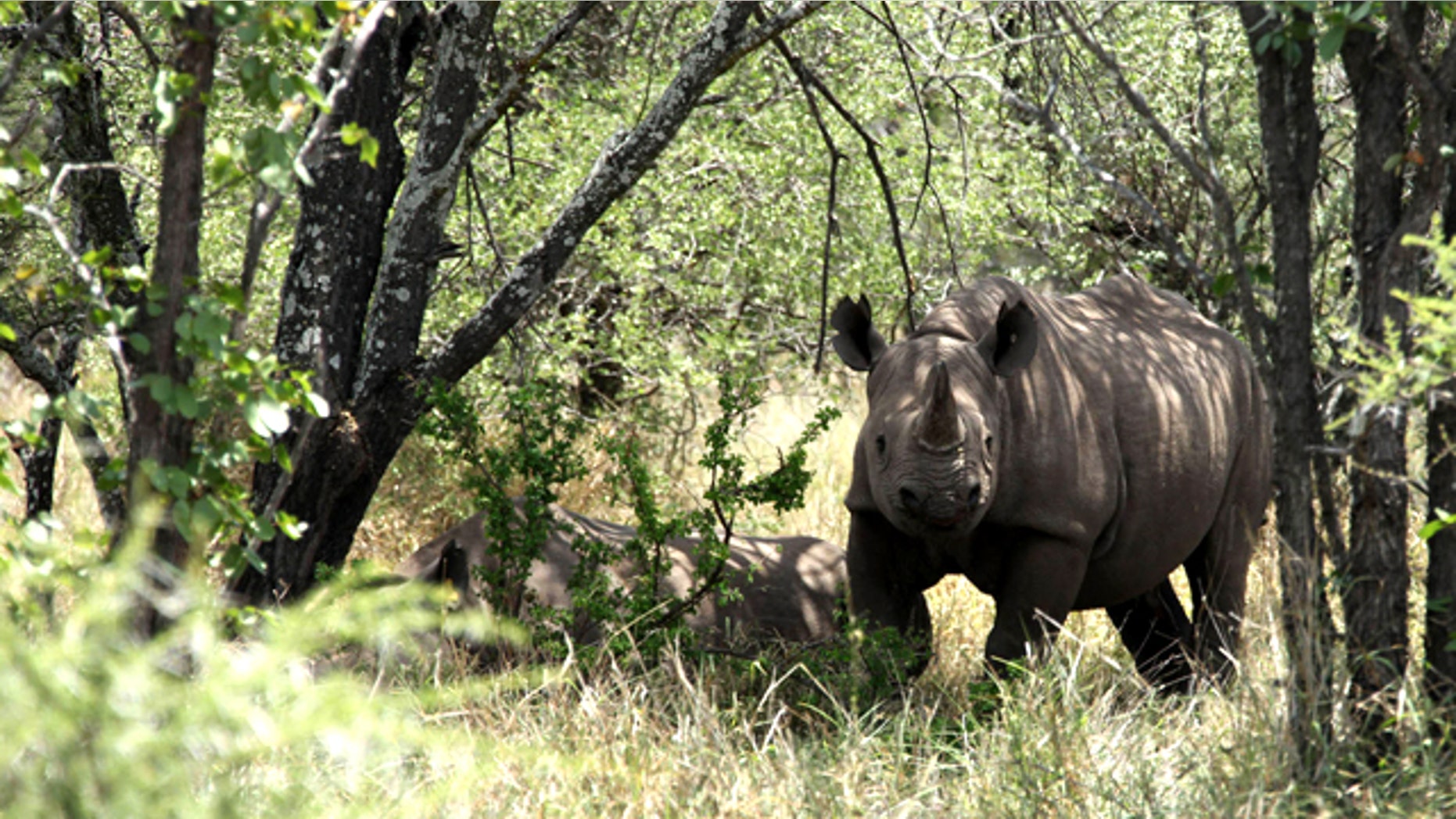 GENEVA – Ounce for ounce, rhino horns sell for more than gold — one reason why conservationists say Africa's rhinos are facing their worst poaching crisis in decades.
Organized crime syndicates have killed than 800 African rhinos in the past three years alone, the Swiss-based International Union for Conservation of Nature said Friday.
Rhino horns are in great demand globally, particularly in Southeast Asia, ground up for use as alleged aphrodisiacs and in traditional medicines or turned into decorative dagger handles.
Poachers are now using helicopters, night-vision goggles and high-powered rifles to hunt and kill the plant-eating, poor-sighted rhinos — equipment even African wildlife officials can't afford. Poaching of the two different species of African rhinos is on the rise in South Africa, Zimbabwe and Kenya, due to well-equipped and sophisticated crime gangs, and has also decimated the three other rhino species that inhabit Asia, the group said.
South Africa alone lost 333 rhinos last year to poaching and so far this year has lost more than 70, according to IUCN, the world's oldest and largest environmental network. It said Vietnamese have been repeatedly implicated in South Africa's poaching trade.
Richard Emslie, a scientific officer with IUCN, said Africa's remaining 24,990 rhinos might start to decline again in numbers "unless the rapid escalation in poaching in recent years can be halted."
At last count there were 4,840 black rhinos and 20,150 white rhinos, an improvement from 2007, when there were 4,240 black rhinos and 17,500 white rhinos.
"Although good biological management and anti-poaching efforts have led to modest population gains for both species of African rhino, we are still very concerned about the increasing involvement of organized criminal poaching networks," Emslie said.
South Africa has more than 90 percent of the world's rhino population. White rhinos are the biggest of the rhino family, weighing as much as 6,000 pounds. Among land mammals, only the elephant is bigger.
The northern white rhino is the most highly endangered mega-vertebrate on earth. Southern white rhinos almost went extinct at the end of the 19th century, plunging down to only 20 at one point. Decades of conservation efforts gradually brought them back to life.
The population of black rhinos — which are actually gray — has tumbled from a high of 65,000 across Africa in the 1970s. It is only found now in eastern and southern Africa but is one of the "big five" animals most tourists want to see on safari; the others are buffalo, elephants, leopards and lions.
"In South Africa, a large number of rhinos live on private land. Rhino management, including control of rhino horn stockpiles and security, needs to be improved and coordinated among rhino holders," said Simon Stuart, chair of IUCN's species survival commission. "This is essential if we are going to face the poaching crisis head on."
The U.N.'s Convention on International Trade in Endangered Species banned the commercial trade in rhino horn in 1993. But conservationists and law enforcement officials can't stop the huge demand for ground rhino horn, a key ingredient in Chinese traditional medicine, prized as a cure for everything from colds and fevers to high blood pressure, impotence and other ailments.
Advocacy groups have tried to persuade Asians that the horns — largely made up of the protein keratin, the same substance as human hair and nails — have no special chemical qualities, to little avail.
Demand also appears to have increased in Vietnam, where some are willing to pay large sums for exotic animals used in traditional medicine.
Last year, a Javan rhino, one of the world's rarest mammals, was found dead in a Vietnamese national park with its horn chopped off. Experts believe only three to five animals still exist in Vietnam.
In 2008, Vietnam recalled a diplomat from its embassy in South Africa after she was caught on tape receiving illegal rhino horns.