Rescuers search for 500 people missing after flash floods in Indian Kashmir; 132 dead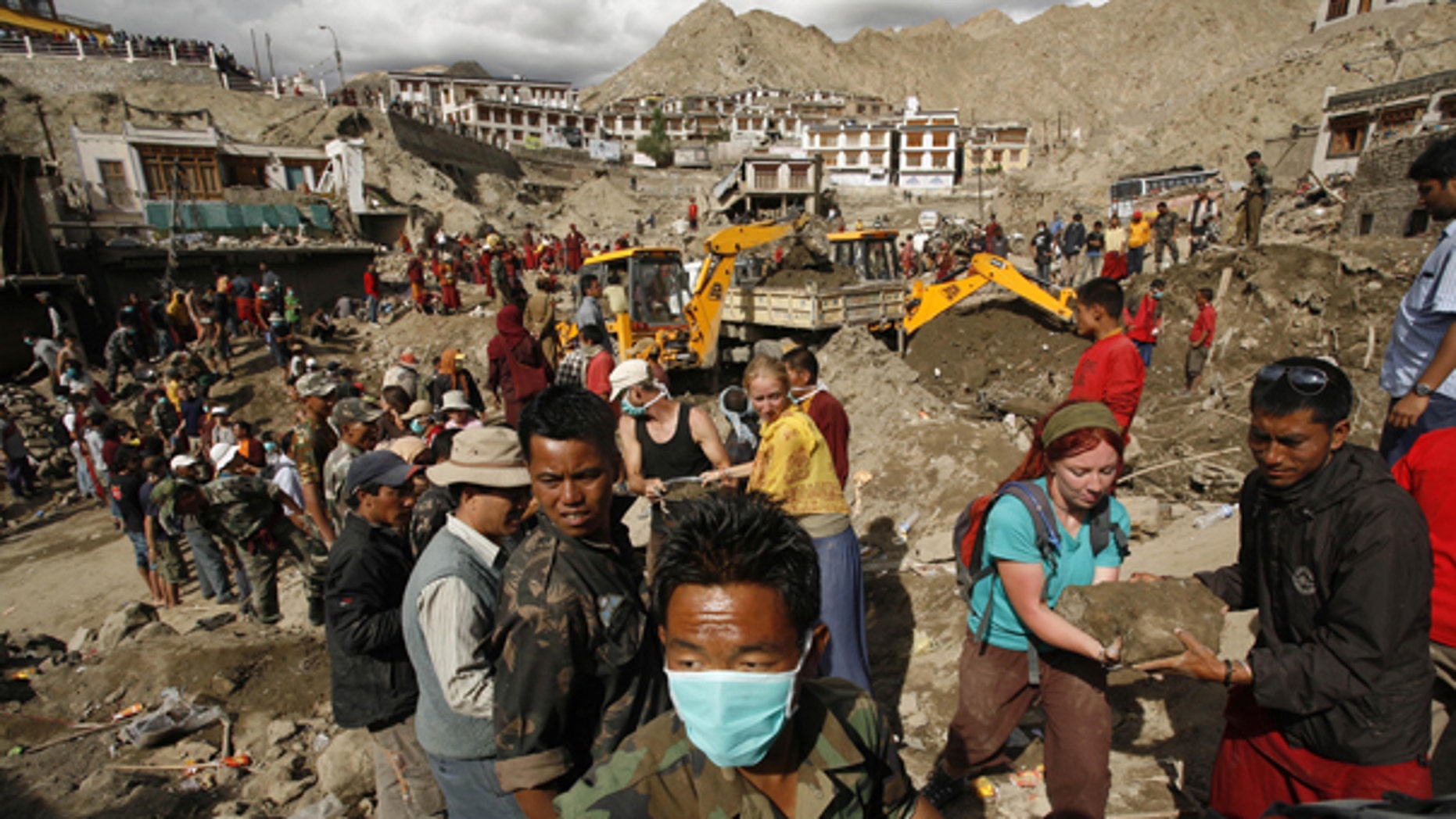 SRINAGAR, India – SRINAGAR, India (AP) — Rescuers dug through crushed homes and piles of mud Sunday searching for 500 people still missing after flash floods sent massive mudslides down remote desert mountainsides in Indian-controlled Kashmir, officials said. The death toll rose to 132 with about 500 others injured.
The dead included at least five foreign tourists whose nationalities were not immediately known.
Bhim Sen Tuti, the region's police chief, said "Their bodies are lying on a trekking route outside Leh town, and efforts are on to retrieve the bodies."
Authorities until Saturday maintained that no foreign tourists were among the dead or injured.
About 2,000 foreign tourists were in Ladakh, a popular destination for adventure sports enthusiasts, when the storm hit Friday, burying homes and toppling power and telecommunication towers.
Authorities were arranging special flights to fly the tourists to New Delhi from Leh on Sunday.
Tuti also said at least 500 Indians were missing. "There may be more people missing because of the vastness of the area."
Thousands of army, police and paramilitary soldiers were clearing roads to reach isolated villages in the Ladakh region cut off by Friday's powerful thunderstorms, state police Chief Kuldeep Khoda said.
The injured were being treated at an army hospital and several makeshift clinics in and around Leh, the worst-hit town, Khoda said.
Officials said the missing people included 28 army soldiers.
Rescuers still had not reached about 5,000 people in Choglamsar, a village on Leh's outskirts, because of mudslides blocking the road, police officer Nawang Tsering said.
Mohammed Deen Khan, a social activist who tried to reach the village on Saturday, said the mud was about 15 feet (4.5 meters) high in some places. He said authorities were facing a shortage of bulldozers and heavy earth movers.
About 100 stranded foreign tourists, mostly Europeans, were evacuated from Pang village northeast of Leh, army spokesman Lt. Col. J.S. Brar said in Srinagar, the main city in Indian-administered Kashmir.
August is peak tourist season in Ladakh, about 280 miles (450 kilometers) east of Srinagar. It is a high-altitude desert with a stark moonscape-like terrain, and normally received very little rain.
The deluge came as neighboring Pakistan suffered its worst flooding in decades, with millions displaced and about 1,500 dead.