Republicans In Tight Spot Over 'Catch An Illegal Immigrant' Game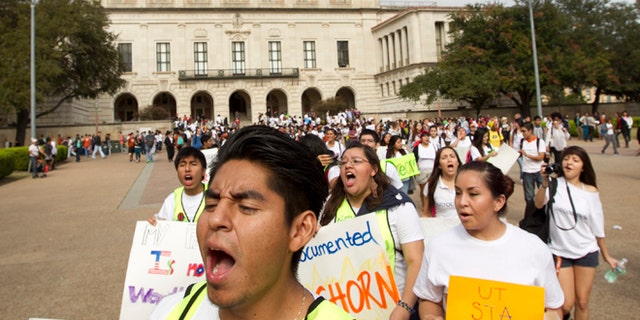 AUSTIN, Texas (AP) – When young Texas conservatives announced a "catch an illegal immigrant" game, they expected condemnation from the left. But the surprise came when fellow Texas Republicans either denounced them or remained conspicuously silent.
Perhaps no incident better crystalizes how the state GOP is trying to mitigate its immigration policies to win Hispanic votes and keep the party vital. The dilemma couldn't have been clearer last week when several 2014 Republican candidates campaigned for votes in the Young Conservatives of Texas online straw poll while trying to distance themselves from the game sponsored by the group's University of Texas at Austin chapter.
The game — which has been played at several other campuses across the country since at least 2005 — rewards students for capturing one the group's members wearing a sign that reads "illegal immigrant."
It was canceled Tuesday after university officials called it an honors code violation, but the publicity gave Democrats yet another opportunity to paint Republicans as uncouth on Hispanic issues.
"Out of one side of their mouths they say that they want the Hispanic community's vote, at the same time that they're begging for the endorsement of anti-immigrant extremists," said Gilberto Hinojosa, chairman of the Texas Democratic Party.
Among those in the GOP blasting the game was Texas Attorney General Greg Abbott, whose gubernatorial campaign spokesman called it a "repugnant effort." Abbott did not actively campaign in the straw poll, but easily led it.
Bob Quasius, president of a Hispanic group called the Cafe Con Leche Republicans, said the group was being "stupid" by giving Democrats ammunition to define conservatism as anti-Hispanic.
"Many of us were young and foolish in our college days,'" he said in a statement. But he added: "How politicians and political groups talk about immigration has an outsized impact on perception from Latinos and Asians. "
William Hampton Williams II, who as a Young Republican at New York University supported a similar immigrant game in 2007, now manages Eric Opiela's campaign for Texas agriculture commissioner. In a statement to The Associated Press, he took a dim view of the game, which was also played at the University of North Texas in 2005, the University of Michigan and Michigan State in 2006 and the University of Iowa in 2007.
"Illegal immigration is a serious issue and the conservative argument wins on its own, and stunts and gimmicks like this detract from the debate," he said. "Clearly the kids were mistaken."
The Opiela campaign did not use social media to campaign for the straw poll, but was in the lead Friday.
Lorenzo Garcia, the chapter chairman for Young Conservatives of Texas, acknowledged the game was "over the top" but was meant only to spark a debate on a crucial national issue.
"I have been shocked at the uproar over the event's premise and at the personal attacks against me," Garcia said in a statement after canceling the game.
No single law divides conservatives and Hispanics quite like the federal DREAM Act, which provides a path to citizenship for college students whose parents brought them to the United States as children, and its Texas counterpart, which provides those students with in-state tuition. The laws have overwhelming support among Hispanics, including some Republicans in other states.
Houston Sen. Dan Patrick, in his campaign for lieutenant governor, has criticized his competitors for supporting the Texas law in the past, and some have backtracked to say they want to repeal it. Patrick remained silent on the game and actively campaigned for the straw poll on social media, as did Land Commissioner Jerry Patterson.
Lt. Gov. David Dewhurst condemned the game and has not campaigned for the straw poll, but neither does he support the in-state tuition provision.
Abbott "has said that the objective of the program is noble. But, he believes the law as structured is flawed and it must be reformed," his spokesman Avdiel Huerta told the AP without offering specifics.
Democrats, who won support from the majority of Hispanic voters in 2012, see an opportunity in the state's growing minority population to win their first statewide race in 20 years. They also see an opportunity in the Republicans' recent dilemma and will hammer on it through next November.
"There's a reason that disgusting illegal immigration game did not happen on the UT campus. ... It's because Texans reject what's wrong and stand up for what's right," said Christina Gomez, a coordinator with Battleground Texas, a PAC trying to increase Democratic voters. "If Greg Abbott and the GOP think we'll sit idly by as those around them dehumanize and humiliate the people of Texas — they've got another thing coming."
Follow us on twitter.com/foxnewslatino
Like us at facebook.com/foxnewslatino