Reported cartel gravesite disputed by Mexican state as maybe being animal remains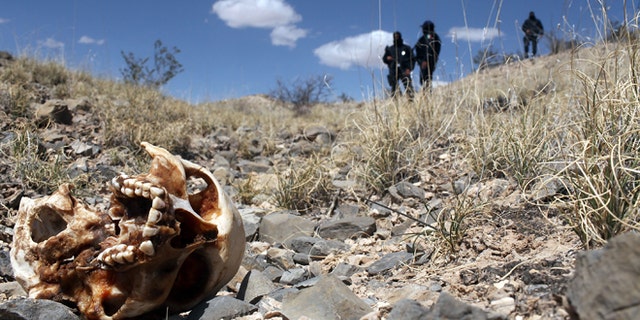 Forensic experts in Mexico said that they cannot tell the difference between human bones and those of chickens and cows discovered at a clandestine burial site near Mexico's northern border with Texas.
After the discovery in recent days in both Mexican and U.S. media outlets of a crematorium or gravesite allegedly used as a dumping ground for bodies by one of Mexico's most violent drug cartels in an area known as La Bartolina near Brownsville, Texas, the Tamaulipas government stated that it had found no gravesite.
As reported by Breitbart Texas, investigators for the Mexican state's government did admit to finding bones, clothing, documents and ammunition, however. They also purportedly found a 55-gallon drum filled with ashes and bones.
Their forensic experts, the Tamaulipas government claims, have been unable to tell if the bones were human or from farm animals like cows or chickens.
A man identifying himself as a former Gulf Cartel hitman told Breitbart Texas that the organized crime group has used the clandestine gravesite since 2011 and even had recruits cook or incinerate human remains in large drums as part of an initiation ritual.
"For years they had been following execution orders from Comandante Fili," the former cartel member said of a notorious Gulf Cartel capo. "[Victims] were cooked, and the remains spread out by the damn lagoon by cartel members."
While some have called the Tamaulipas forensic teams ruling into question – saying they are either incompetent or in cahoots with the cartels – experts warn that it might be hard to determine what animal the bones belonged to if they were burned to ashes.
"I think that they should be able to say if the bones are human or animal, but it always depends," Claudia Rivera – an expert at the Forensic Anthropology Foundation of Guatemala, which has unearthed remains of massacres throughout the Americas – told Fox News Latino. "In the case that the remains are too burned and are only ashes, an expert has to look carefully to try to find specific characteristics of the bones."
"Some genetic labs could tell if they are human or not," she said "As with all the sciences, it depends on the conditions (preservation) and handling of the remains to obtain a result."
Like us on Facebook
Follow us on Twitter & Instagram