Report: Yemeni President Says He's 'Holding Out'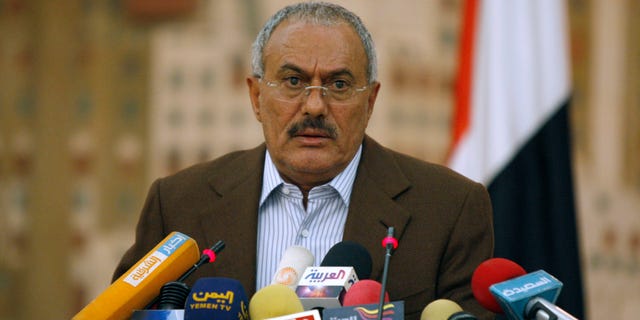 Yemeni President Ali Abdullah Saleh said on Monday that he was "holding out" and the majority of Yemenis back him, according to Al Arabiya television.
It was not immediately clear where Saleh made the comments, which came as top generals, ambassadors and some tribes threw their support behind anti-government protesters on Monday in a major blow to his 32 year-long rule, Reuters reports.
Saleh, who has cooperated closely with a U.S.-backed offensive against his nation's branch of Al Qaeda, looked to be far closer to what analysts increasingly have called inevitable: a choice between stepping down or waging a dramatically more violent campaign against his opponents.
Also on Monday, Yemen's defense minister said the army supports Saleh and will defend him against any "coup against democracy," according to a statement.
"The armed forces will stay faithful to the oath they gave before God, the nation and political leadership under the brother president Ali Abdullah Saleh ...," said the statement, a copy of which was obtained by Reuters. "We will not allow under any circumstances an attempt at a coup against democracy and constitutional legitimacy, or violation of the security of the nation and citizens."
Yemeni television showed footage of Saleh swearing in new members of the appointed Shura Council, Yemen's upper house of parliament.
A senior opposition leader said contacts were underway with the president over a peaceful way out of the ongoing crisis. One option under discussion, he said, was for Saleh to step down and a military council takes over from him to run the country till presidential and legislative elections are held.
The leader, who spoke on condition of anonymity because of the sensitivity of the contacts, declined to say how much progress the talks have made, but gave 48 hours as the likely timeframe for a breakthrough.
The Associated Press contributed to this report.