Report: Connecticut police more likely to use stun gun against Hispanics, blacks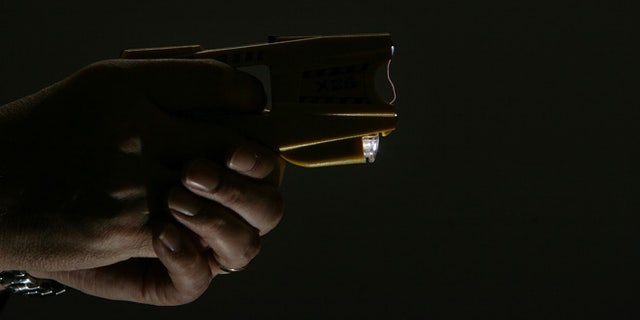 NEWYou can now listen to Fox News articles!
A recently released report conducted statewide in Connecticut shows police officers there are more likely to fire their stun guns them in confrontations involving minorities.
Officers fired the weapons, as opposed to merely brandishing them, 60 percent of the time in confrontations involving whites, 81 percent of the time in those involving blacks and 66 percent of the time in those involving Hispanics.
Also, Hispanics were more likely to be fired upon multiple times than other racial groups.
The report was written by Central Connecticut State University analysts who reviewed data collected in 2015. The authors of the study noted that many police departments appeared to underreport their stun gun use.
"With this basic information you can start asking more questions and figure out whether policies governing Tasers need to be modified," said Michael Lawlor, Connecticut undersecretary for criminal justice policy and planning.
"I'm sure over time it will have a big impact. You can expect the use of Tasers will change simply because law enforcement is aware this data is being collected and reported publicly."
A 2014 law made Connecticut the first state to require all police departments to report every instance in which an officer fires or threatens to use a stun gun.
Across the state, 610 people were involved in police stun gun incidents last year and 419 of them received an electrical shock. Nearly 300 people were injured after being shot with a stun gun and two died.
In stun gun incidents involving Hispanics, 27 percent were shocked twice, compared with 18 percent of whites and 15 percent of blacks. Hispanics also were more likely to be shocked more than twice.
Among the report's other findings, about 53 percent of the people shot with stun guns appeared to be under the influence of drugs or alcohol, despite guidance to avoid using them in such cases. In 2013, Taser International Inc., a leading maker of stun guns, advised law enforcement officials to try to avoid using stun guns on people who are impaired from alcohol, drugs or certain medications, because of the risk of injury or death posed by electric shocks to their bodies.
Wethersfield Police Chief James Cetran, a vice president of the Connecticut Police Chiefs Association, said it isn't clear why Connecticut officers are firing their stun guns at so many impaired people. He said it often isn't immediately clear to officers whether someone is under the influence of alcohol or drugs, and using a stun gun is preferable to using deadly force with a firearm.
"If you've got an immediate threat that's coming at you, you need to protect yourself or that innocent third person," he said. "There are certain times when policy doesn't save your life. ... Tasers I can honestly say have saved officers from injury. They've saved some suspects from injuries. Probably a lot of suspects."
The report also found that one-third of people involved in police stun gun incidents were described as "emotionally disturbed" and 13 percent were labeled as "suicidal." Data analysts noted that several federal courts have questioned the constitutionality of using stun guns on people to secure their own safety or to transport them to hospitals, which some Connecticut officers did in dealing with emotionally disturbed people.
The report comes as police across the U.S. face heavy scrutiny over their use of deadly force against blacks. Although stun guns have been billed as non-lethal alternatives to firearms, they have resulted in deaths, and reliable information on how police use them has been lacking.
Data from other states is not available.
Based on reporting by the Associated Press.
Like us on Facebook
Follow us on Twitter & Instagram