Repentant prosecutor: Government planned to arrest Venezuela opposition leader no matter what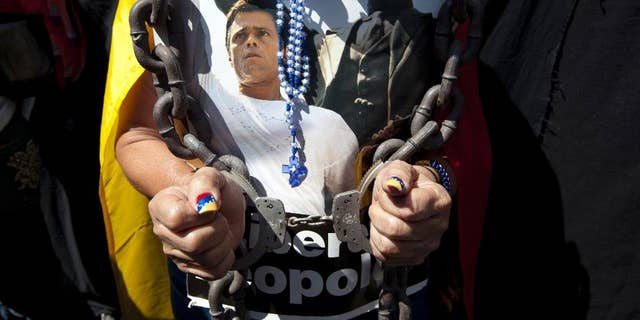 CARACAS, Venezuela – A Venezuelan prosecutor who helped convict opposition leader Leopoldo Lopez is saying that the government had long plotted Lopez's arrest.
Prosecutor Franklin Nieves, who reportedly is now seeking asylum in the United States, said in a video posted Monday on the Venezuelan news website La Patilla that superiors in the prosecutor's office had given him orders to have Lopez arrested days before the Caracas protest — and the alleged crime — took place.
Nieves said orders went out to arrest Lopez at an earlier scheduled protest, but Lopez did not appear so the plan was dropped.
Nieves fled Venezuela and apologized last week for his role in what he called a sham trial. Lopez was convicted in September of inciting violence during a 2014 anti-government protest in Caracas and received the maximum sentence, about 14 years. Lopez insisted that he never called for violence, but prosecutors argued that violence was implicit in his calls for the resignation of President Nicolas Maduro.
Lopez was mayor of an upscale neighborhood in Caracas, and has for years been one of the primary leaders of the hardline opposition to the country's socialist administration.
Nieves has promised to reveal more evidence that Lopez was railroaded. In an interview published Monday, he told the Wall Street Journal that he is in Miami and is seeking asylum with his wife and two daughters.
Venezuela's chief prosecutor, Luisa Ortega Diaz, on Monday denied that Nieves was pressured to go after Lopez, and rejected calls to annul Lopez's sentence. She said Nieves had caved in to foreign interests.
"We at the prosecutors' office we don't put pressure on anyone," she said in a televised interview.
Twenty members of Congress have called for sanctions against Nieves and four other Venezuelan officials involved in Lopez's trial. The request came in a bipartisan letter sent to Secretary of State John Kerry and Treasury Secretary Jacob Lew.
This week, some of those same Congress members are using Nieves testimony to renew their calls for sanctions on Venezuelan officials