Released 'Cuban Five' Spy Gets Hero's Welcome With Concert In Havana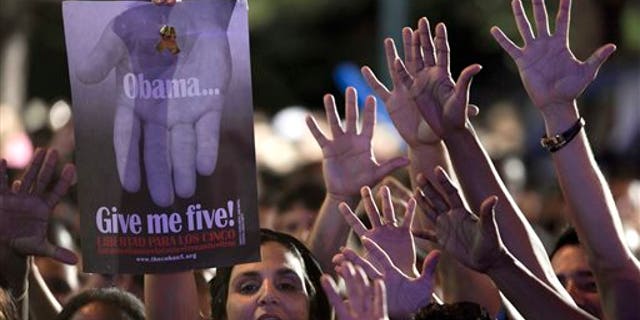 HAVANA (AP) – Thousands of Cubans rallied at the University of Havana on Saturday night for a concert to give a hero's welcome to the second of five intelligence agents to return to the island after completing long prison terms in the United States.
The steps of the university were packed for the concert featuring nearly a dozen musical acts, including headliners and popular salsa act Los Van Van.
"I publicly reiterate my infinite gratitude for these 15 years of support and struggle that I know will not cease until Gerardo, Ramon and Tony have returned," said Fernando Gonzalez, who walked out of an Arizona prison on Thursday, referring to the three agents still behind bars.
Gonzalez, 50, returned to Cuba on Friday.
He and the other four agents were arrested in 1998 in Florida and subsequently sentenced to long prison terms on spy-related charges. Havana maintains they were only monitoring militant Cuban exile groups to prevent terror attacks on the island.
Gonzalez was in the front row at the concert along with family members, first Vice President Miguel Diaz-Canel and Rene Gonzalez — no relation — the first of the Cuban Five to be released. He returned to Cuba last year.
Musicians including rocker David Blanco and troubadors Vicente Feliu and Gerardo Alfonso sang in front of a huge crowd of islanders waving Cuban flags and brandishing signs in support of the Cuban Five.
Follow us on twitter.com/foxnewslatino
Like us at facebook.com/foxnewslatino