Relatives say they doubt that 42 men killed on ranch in western Mexico died in shootout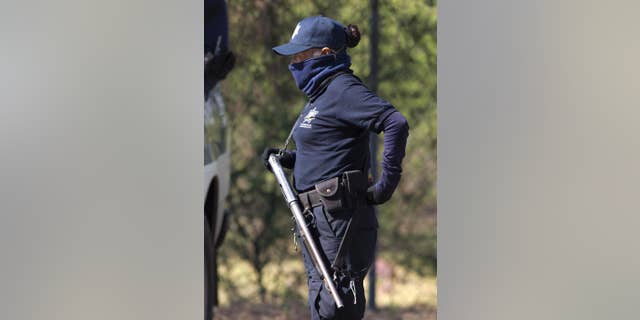 MORELIA, Mexico – One body was missing an eye and had bruises on its face. Another had its teeth knocked inward. One had a gunshot in the top of the head.
Relatives of some of the people killed in what authorities say was a shootout with drug cartel gunmen in Michoacan state told The Associated Press on Sunday that after seeing the remains of their loved ones they don't believe the official version of events.
Mexican officials say 42 gang members and one police officer died Friday in a three-hour gunbattle on a ranch in the drug-plagued state, the deadliest such confrontation in recent memory. Most of the dead were from neighboring Jalisco state, home of the powerful Jalisco New Generation Cartel, officials said.
An official from Michoacan state, who spoke on condition of anonymity because he was not authorized to talk to the press, said all the dead were men and most died from gunfire.
But the lopsided death toll, and photographs from the scene in which bodies appeared to have been moved, raised questions about the official version.
Family members who arrived at the morgue in the state capital, Morelia, to retrieve the bodies echoed these doubts.
They all spoke to The Associated Press on condition of anonymity because they feared reprisals, but some were willing to provide the names of their dead family members. Many were from Ocotlan in Jalisco state and said that a group of at least 25 men from the town had gone to the ranch after being offered work.
Juan Enrique Romero Caudillo, 34, was one of those men. Family members said he sold scrap metal to make a living.
"He said he had been offered maintenance work at the ranch," said a relative, adding that Romero didn't belong to a gang.
After seeing his corpse, the relative said Romero had been shot in the head from above and there was bruising on his face. On the death certificate, the cause of death was listed as "destruction of the brain mass due to penetration by a projectile from a firearm." It did not say if the gunshot was from close range or far away.
Romero's relative said he believed what happened on the ranch "was a massacre" not a shootout with criminal gunmen, as the government has said.
Relatives of Mario Alberto Valencia Vazquez, 22, said he worked in a furniture business but had been offered employment on the ranch.
One relative said Valencia's teeth had been knocked inward as if "he had been struck by something" and his body showed signs of having received blows. Another woman said her husband's face had been destroyed and was missing an eye.
Government officials weren't immediately available to respond to the comments by the family members, but previously they have said the shooting broke out when federal authorities responded to a complaint of armed men taking over the of Rancho del Sol, in the municipality of Ecuandureo near the border with Jalisco.
Federal forces heading to the ranch met a truck carrying armed men who opened fire, and when government forces chased the gunmen onto the ranch, they came under heavy fire from others, according to National Security Commissioner Monte Alejandro Rubido.
Authorities detained three people and confiscated 36 semi-automatic weapons, two smaller arms, a grenade launcher that had been fired and a .50-caliber rifle.
Photographs from the site showed the bodies of men without shirts and some without shoes strewn over the ranch. Some appeared to lie with semi-automatic rifles in a field with farm equipment and others on a blood-stained patio strewn with clothes, mattresses and sleeping bags. Video of the battle obtained by The Associated Press showed federal police officers coming under fire.
The case recalled events in the State of Mexico on June 30, when the army said 22 suspected criminals were killed in a confrontation and only one soldier had been wounded. An investigation by The Associated Press revealed that several of the suspects were executed after they surrendered in a cellar of the municipality of Tlatlaya.