Refugees seek damages from Macedonia over police expulsions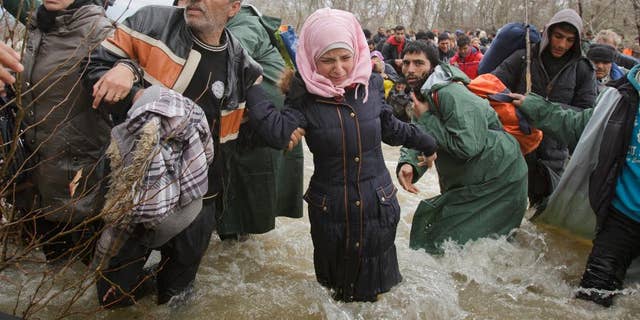 NEWYou can now listen to Fox News articles!
ATHENS, Greece – Eight asylum seekers are taking legal action against Macedonia for expelling them back to Greece after a chaotic mass border crossing earlier this year.
The migrant advocacy group ProAsyl said it helped the group file a complaint Monday with the Council of Europe's Court of Human Rights.
Karl Kopp of the Frankfurt, Germany-based group said Thursday that the asylum seekers were from Syria, Iraq and Afghanistan. He did not disclose their names.
"They know they will probably not see justice but if there is a (favorable) verdict, then it might help refugees in the future," Kopp told The Associated Press.
The March 14 incident occurred along a rugged stretch of the Greek-Macedonian border when hundreds of migrants and refugees who had forced their way across were detained and then expelled.
The migrants had been stranded at the sprawling tent city of Idomeni on the Greek side of the border. The expulsions signaled a shift across much of Europe toward a tougher line against refugees after more than a million had crossed into the European Union the previous year.
In hectic scenes seen on television internationally, Greek and overseas volunteers helped the migrants across a river — with many holding young children and their belongings over their heads.
"It was known as the 'march of hope' but it was really a march of despair," Kopp said. "We have not forgotten what happened. Our point is that violence was used and people were pushed back illegally. There were handicapped people there and others who were clearly in need of assistance."
Macedonia, which used its army to build a razor-wire fence along the border with Greece, has argued that it has the right to protect its borders and denies using excessive force.
The legal complaint was also supported by the European Center for Constitutional and Human Rights, also based in Germany.
The plaintiffs, Kopp said, would be entitled to financial compensation if the court rules in their favor.
The camp at Idomeni was dismantled by Greek authorities in May, and its inhabitants were bused to army-built shelters.
___
Geir Moulson in Berlin contributed. Follow Gatopoulos at http://www.twitter.com/dgatopoulos
___
ProAsyl report: http://ow.ly/rmTO304f2iF