Refinancing its debt, Puerto Rico sells $246M in short-term bond notes backed by new oil tax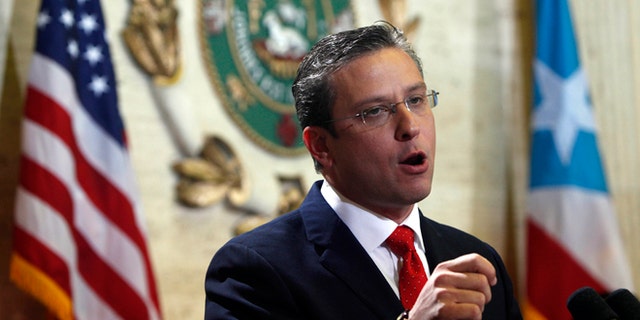 NEWYou can now listen to Fox News articles!
SAN JUAN, Puerto Rico (AP) – Puerto Rico's government said Tuesday that it has sold $246 million in bond anticipation notes to refinance part of its short-term debt and help generate more money for the financially strapped island.
The notes issued by Puerto Rico's Infrastructure Financing Authority were bought by Canadian RBC Capital Markets as part of a deal aimed at rescuing the island's Highways and Transportation Authority, one of several heavily indebted public corporations in the U.S. territory.
Bond anticipation notes are short-term debt that is usually issued before a larger, longer-term bond offering is made.
The anticipation notes are backed by an increase in the island's petroleum excise tax that Gov. Alejandro García Padilla signed into law just days ago.
"We are pleased that the legislature, after robust public debate and deliberation, enacted a law that facilitates PRIFA's access to market," said Melba Acosta, president of Puerto Rico's Government Development Bank, which oversees the island's debt transactions.
The new law raises the excise tax on a barrel of crude oil from $9.25 to $15.50 and aims in part to strengthen the finances of the Highways and Transportation Authority, which owes $2.2 billion to Puerto Rico's Government Development Bank, about 21 percent of the bank's portfolio.
Moody's has warned that the bank's liquidity could fall as much as 22 percent if there was no new bond offering to refinance the Highways and Transportation Authority's debt.
Puerto Rico is struggling with $73 billion in public debt, and the government is preparing to issue up to $2.95 billion in bonds to help generate more liquidity for the Government Development Bank and strengthen the island's public corporations.
Those agencies hold nearly 40 percent of the island's debt, and investors increasingly worry they might go bankrupt. On Monday, Moody's issued a report saying the island's Electric Energy Authority will likely default by July 1, when it is scheduled to make a roughly $400 million debt service payment.
Puerto Rico created a debt-restructuring law last year, but a federal court ruled it unconstitutional last month. In an appeal filed Monday, the government said the U.S. territory was facing the most serious fiscal crisis in its history and is unable to restructure its debt if needed.
"The district court's pre-emption holding puts Puerto Rico in an anomalous 'no man's land' where its public corporations cannot restructure their debts under either federal or local law," the appeal said.