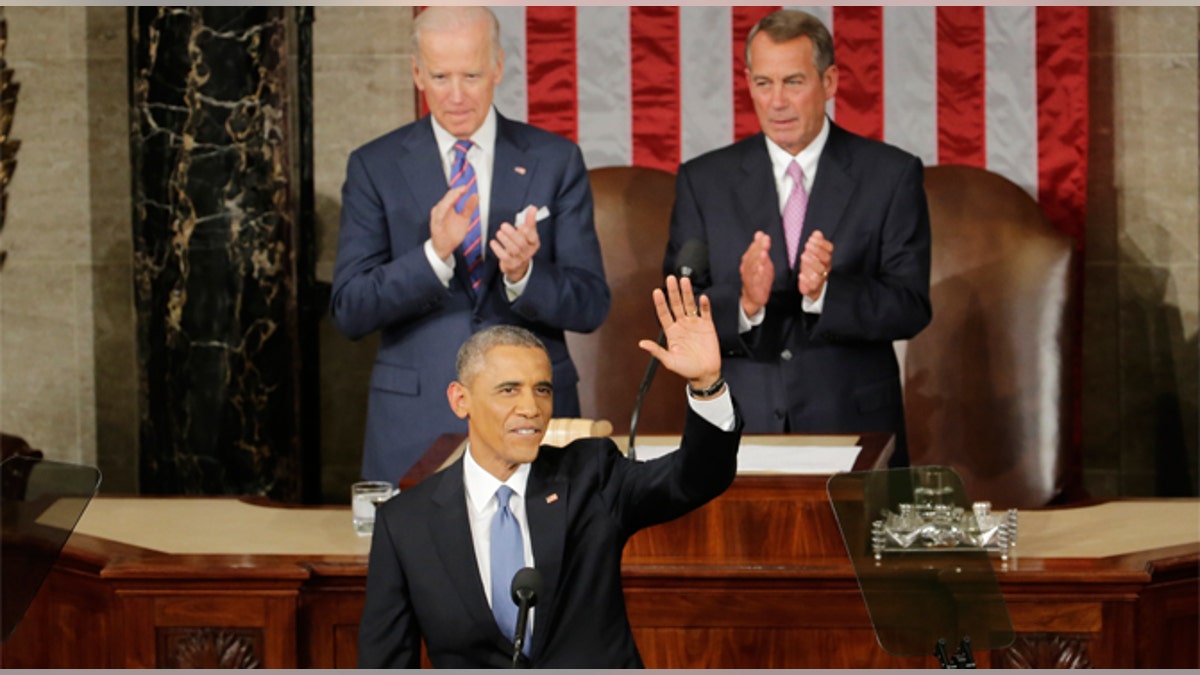 President Barack Obama's new plan offering two years of free community college to every student in America is a step in the right direction, education experts say, but there are doubts over whether the plan will help solve the real problem: getting students to graduate.
"We still live in a country where too many bright, striving Americans are priced out of the education they need. It's not fair to them, and it's not smart for our future," President Obama said in his State of the Union Wednesday night. "That's why I am sending this Congress a bold new plan to lower the cost of community college — to zero."
It's a bold idea, already being tried in Tennessee and Chicago, and experts agree the national plan should help more people get into college. But the real issue going far beyond his proposal, experts say.
Latinos, for instance, are walking into college classrooms in record numbers but very few are walking out with a degree. From 1996 to 2012, college enrollment for Latinos (18-24) in two-year and four-year institutions rose by 240 percent. In fact, 2012 marked the first time the percentage of Hispanic high school graduates enrolled in college surpassed that of whites, according to Pew, and most are choosing to go to community college.
Overall, 56 percent of all Hispanic undergraduates attend community college, but just 16 percent of them will complete a two-year degree within three years, according to the American Association of Community Colleges. Nationally, just 40 percent of all community college students will complete a degree at any institution within six years.
Deborah Santiago, Chief Operating Officer and Vice President for Policy at Excelencia in Education, says the proposal offers a "positive and clear message that college is possible for everyone." But she's skeptical that the solution lies in putting more students into a community college system that is already underfunded and under-resourced.
"As more and more of us enroll, we have to make sure we have a structure that allows us to persist and complete a college education," Santiago said.
Under the Obama program, "America's College Promise," tuition and fees for the first two years of community college would be paid for as long as the student maintains a 2.5 GPA while in school. The average annual tuition and fees for community colleges is $3,260 year.
But, Santiago said, covering fees and tuition isn't enough because many low-income students already have their tuition paid for by Federal Pell Grants, anyway. The biggest expenses come from outside of the classroom, like students who have to forego working to attend classes.
"Covering tuition or fees is a small part of the cost. It doesn't cover the broader issue of affordability," Santiago said. "The real impediments to Latinos completing their degrees come from the biggest expenses – which are textbooks, transportation, childcare and housing."
Evelyn N. Waiwaiole, the director of the Center for Community College Student
Engagement at the University of Texas at Austin, said there is no doubt free college tuition would take the burden off of students. She pointed to a CCSE survey that said 70 percent of community college students say a lack of finances prompted them to drop out.
"The average age of a community college student is 28 years old and they live incredibly complex lives," Waiwaiole said. "They are working, raising kids, most community colleges are in large urban areas, and students aren't living in a dorm or experiencing fraternity or sorority life."
Experts say the dismal graduation and competition rates has less to do with the initial tuition and fees and more to do with the financial burden that comes from being in a community college system that keeps students locked in for longer than they need to be there.
For instance, experts say, community colleges lack proper dedicated college counseling to help students pick the proper courses and to graduate on time. This is particularly important because about 40 percent of Latinos who go to college are the first in their families to do so.
"It's a "vaya con dios" (go with God) attitude," Santiago said. "The intention is there, but students have to figure out their own way. They are saying they are trying to finish, but they can't get into the class they need, or not being offered in the semester they need."
Another issue is many students who enter the community college system need remedial education. According to CCSE, the majority, or about 63 percent of all community college students, need remedial or developmental math, reading or writing courses.
"Many students come to our college underprepared, and often times they are in shock," Waiwaiole said. "You better have a desire to persevere."
As Latinos continue to lead the way in enrollment growth at colleges throughout the country, the fact is, Latinos remain among the least educated group in the country. Just 22 percent of adult Hispanics have an associate's degree or higher, according to Excelencia Education research, lower than 31 percent of all African Americans.
The reality is, Santiago says, while Latinos have a higher aspiration for college then whites and African Americans, first-generation Latino students need more than just their tuition covered – they need academic support, guidance and advising.
The White House agrees. The president's plan does call for the community college system to be restructured. Those community colleges that want to participate must offer programs that fully transfer to local public four-year colleges and universities or offer occupational training programs that lead to real jobs.
Colleges also have to adopt "evidence-based institutional reforms to improved student outcomes."