Rare Audubon 'Birds of America' to Be Auctioned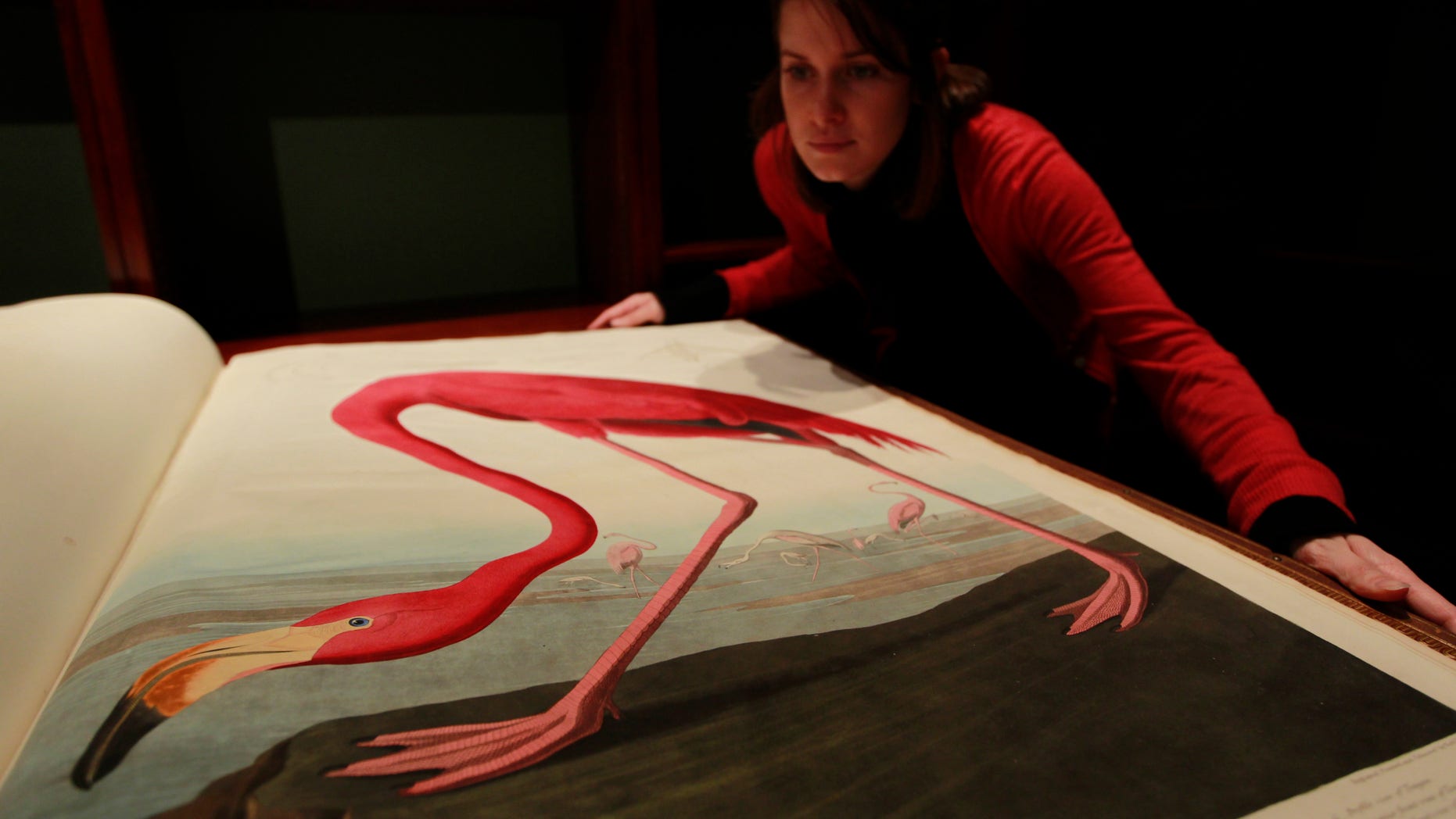 LONDON – To some it's just a bunch of bird drawings. To others, John James Audubon's 'Birds of America' is a rare blend of art, natural history and craftsmanship, unique enough to be the world's most expensive book, expected to fetch more than $9.5 million at a London auction Tuesday.
Some of the world's wealthiest book collectors have been anticipating this auction for months: it represents a chance to own one of the best preserved editions of Aubudon's masterpiece, with its 435 revered, hand-colored illustrations.
Audubon was part frontiersman, part artist, and possessed a rare, almost unequaled ability to observe, catalog and paint the birds he observed in the wild. Experts say the book he produced is unmatched in its beauty and also of considerable scientific value, justifying its stratospheric cost.
Pom Harrington, owner of the Peter Harrington rare book firm in London, said it has been 10 years since the last complete edition of 'Birds of America,' with all of the illustrations, has been auctioned — and that was sold for $8.8 million by Christie's auction house in 2000, a record for a printed book at auction.
The quality of the edition being offered Tuesday by Sotheby's is extremely high, Harrington said, and it is unusual to find one not in a museum or academic institution.
'If you want to buy an example of a rare work of art, this is one of the best,' he said. 'It is valuable in its artistic nature because it is so well drawn.'
The plates were printed in black and white and hand colored afterward. That made the production process extremely expensive, especially since it was carried out by 'the best artists of the time,' Harrington said.
The collection of 435 hand-colored prints, made from engravings of Audubon's watercolors, measures more than 3 feet by 2 feet (90 centimeters by 60 centimeters) because Audubon wanted to paint the birds life size.
The size of the illustrations makes them extremely valuable as standalone pieces of art, which makes the complete edition vulnerable to being broken up so the individual prints can be sold one-by-one.
Harrington said the wild turkey that is depicted in the first big plate of the book can be sold for $200,000.
But Mark Ghahramani, a rare book specialist at Classic Bindings in London, said it is unlikely the 'Birds of America' will be divided up for resale because it is probably more valuable if left intact.
'There are very few copies left of the entire book, so I would think that whoever bought it at the auction would be quite interested in keeping it whole,' he said. 'Anything to do with American natural history is quite valuable.'
Audubon, who died in 1851, represents a unique figure in American history, a renaissance man with shades of Huckleberry Finn — like Mark Twain's fictional character, Audubon made an epic voyage down the mighty Mississippi — but with a scientist's inquisitive nature.
He made his trip, after his dry-goods business failed, with only a rifle, an assistant, and a drawing pad, making illustrations of as many birds as he could find.
He did not find a printer in the United States willing to take on the book, with its oversize illustrations, but sailed to England, eventually finding printers in Edinburgh, Scotland, and in London.
The volume is seen as a vital piece of American history, Harrington said.
'It is the most important natural history book for America,' he said. 'That is the main point. It screams Americana. For an American patriot, it is the greatest book on American heritage - there is no competition.'
___
Gillian Smith contributed to this report.