Raqqa's massive destruction captured in satellite photos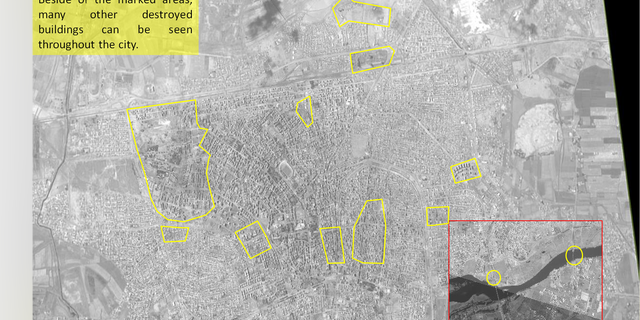 Satellite images obtained by Fox News show United States military and allied forces have decimated the capital of ISIS' so-called caliphate in Syria, with more than 55 percent of Raqqa under the control of U.S.-backed Syrian fighters.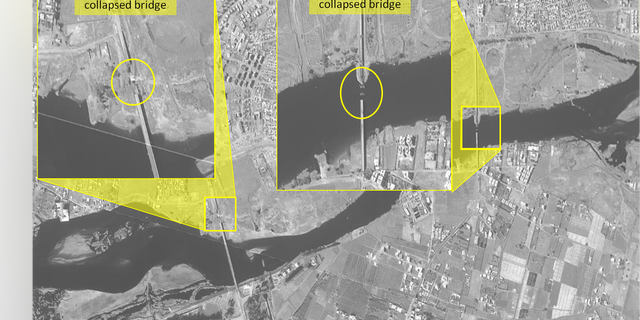 The U.S.-backed forces have taken more than 10 percent of the city in just the past two weeks.
Col. Ryan Dillon, speaking to Pentagon reporters from Baghdad on Wednesday, said there were fewer than 2,500 ISIS fighters remaining in the terror group's former stronghold, according to a new intelligence assessment. About half of the city's citizens managed to escape the city, though tens of thousands remain trapped. An exact figure is unclear.
Since the fall of Mosul in Iraq last month, the majority of U.S. airstrikes against ISIS now take place in Syria, officials said.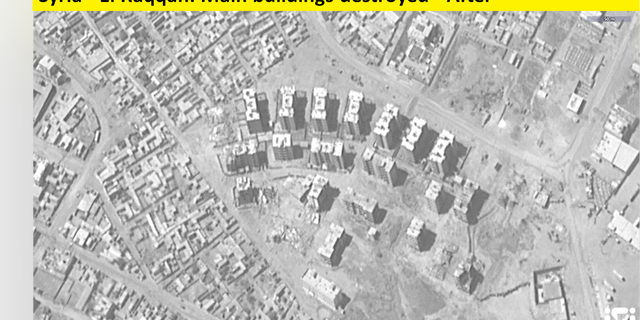 The effects of the U.S.-led air campaign can be clearly seen in images from Aug.13 obtained by ImageSat International. Crumpled buildings show the results of one strike, while another photo shows damage done to three of the city's main bridges. Another picture shows a now-demolished wheat factory, a source of employment for many of the remaining residents.
The city of Raqqa lies in northern Syria on the Euphrates River, giving ISIS great access to the river valley. During the Syrian Civil War, the city was captured in 2013 by the Syrian opposition -- and then by the ISIS, which named Raqqa its own capital in January 2014.
The city was also important to the group because it provided access to the strategic Tabqa Dam, which controls the country's water and electrical output.