Thai government responds in rap battle with anti-government group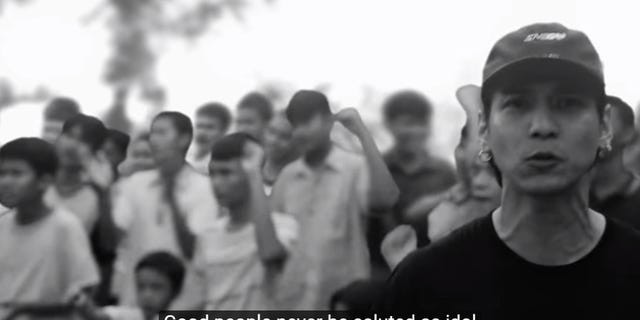 NEWYou can now listen to Fox News articles!
A rap video critical of Thailand's military government is making waves across the Internet, with more than 25 million views since it was posted last week.
The provocative music video titled "Prathet Ku Mee" – translated by its producers as "Which Is My Country" – castigates the army's domination over Thai politics. It was posted on Oct. 22 and references taboo subjects in Thai society.
At one point it replicates a gruesome historic scene where a corpse hanging from a tree is continuously beaten as a crowd cheers on. The scene is based on an iconic image from a 1976 massacre by police and soldiers of student pro-democracy demonstrators.
Verses include: "The country that points a gun at your throat, claims to have freedom but has no right to choose," and "you must choose to either eat the truth or bullets."
Government officials initially strongly denounced the song, even threatening to arrests its creators. Spokesman Buddhipongse Punnakanta said the song's lyrics not only attacked the military but the country as a whole.
Officials appeared to back down from their criticisms this week, however, especially with Deputy Police Chief Srivara Ransibrahmanakul saying the song's lyrics were insufficient evidence to launch a prosecution against the artists.
In what is seen as a response to the video, the government released its own rap video, called "Thailand 4.0."
The tune was played to introduce Prime Minister Prayuth Chan-ocha's remarks to about 500 attendees of a conference on start-ups.
The song features a melodic sampling of the national anthem and lyrics such as "There are many talented Thais, if we work together, we'd be stronger, stronger," and "Gen M, Gen Z, Gen whatever, if you all agree, it's be easier, easier."
Prayuth said he was happy to hear a rap song with "appropriate" lyrics. He said some of the song's beats could be changed, but the meaning of the words was good.
Dechathorn Bamrungmuang, one of the rappers in "Prathet Ku Mee," said at a seminar Wednesday he thinks the song grew quickly in popularity because hip-hop is becoming more and more popular around the world.
"When the song came out, there were both negative receptions and supportive messages to us," he said. "This made us feel like we can communicate with people through our music and that this song doesn't overstep any boundaries."