Queen Elizabeth II wore brooch Obamas gifted her on day Trump arrived in the UK: report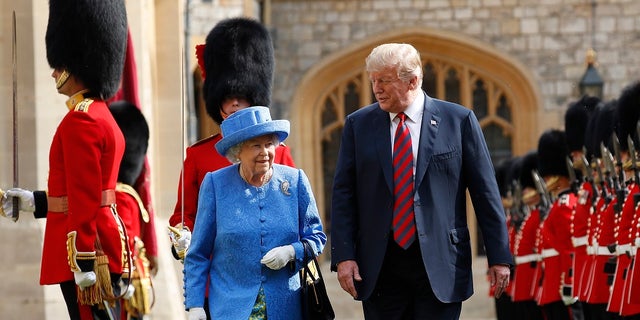 Does the queen use her fashion to send a message?
Queen Elizabeth II reportedly wore a brooch President Barack Obama and former first lady Michelle Obama gave to her during a visit in 2011 on the day President Trump arrived in the U.K.
The Obamas gave the royal matriach the vintage 1950 brooch, decked out with moss agate, 14-karat yellow gold and diamonds, according to Politico.
The queen reportedly wore the jewelry on Thursday, the day President Trump arrived in England, while receiving other dignitaries at Windsor Castle, the Daily News reported.
The next day, she hosted Trump and first lady Melania Trump at the castle for tea. Her son, Prince Charles, and her grandson Prince William did not attend the meeting. A source told The Times of London that they refused to meet with Trump but the palace denied the claims.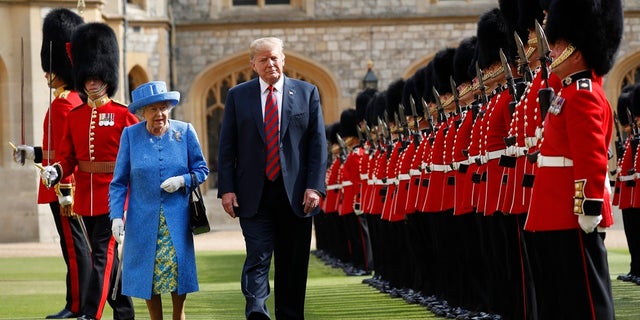 PRESIDENT TRUMP, FIRST LADY MELANIA TRUMP MEET QUEEN ELIZABETH II AT WINDSOR CASTLE
Trump called the queen a "tremendous woman" before his meeting with her.
"She is a tremendous woman. I really look forward to meeting her. I think she represents her country so well," he told The Sun. "If you think of it, for so many years she has represented her country, she has really never made a mistake. You don't see, like, anything embarrassing. She is just an incredible woman."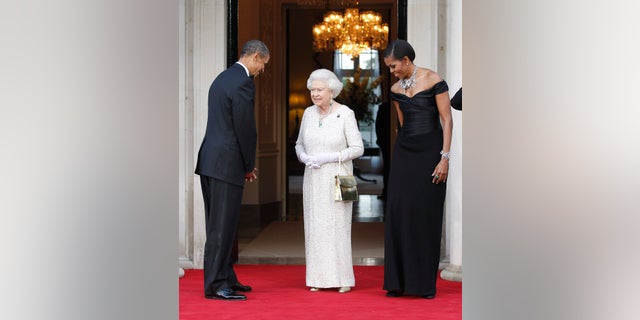 Thousands of people took to the streets of London to protest Trump's visit to the U.K.
The Obamas traveled to the U.K. a few times while in office and have a close relationship with Princes William and Harry. Queen Elizabeth II has met with every U.S. president since Dwight Eisenhower with the exception of Lyndon Johnson, who did not visit the U.K. while in office.
The Associated Press contributed to this report.