Qatari emir meeting Merkel in 1st trip abroad since crisis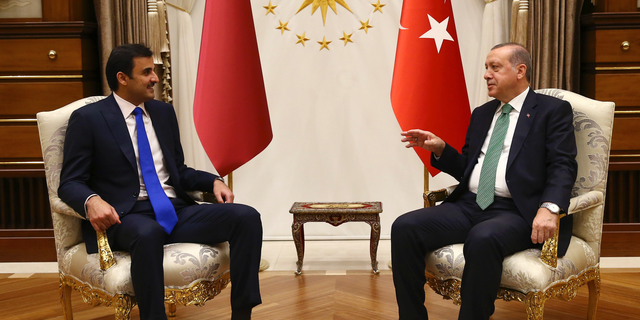 NEWYou can now listen to Fox News articles!
BERLIN – Qatar's ruling emir is visiting Germany on his first trip abroad since a diplomatic crisis erupted between his tiny Gulf nation and its neighbors.
Qatari Emir Sheikh Tamim bin Hamad Al Thani was to meet Friday with German Chancellor Angela Merkel before flying to Paris for talks with French President Emmanuel Macron.
In the first stop on his trip, Al Thani met Thursday night in Ankara with Turkish President Recep Tayyip Erdogan, who's been a major supporter of his country during the three-month-old diplomatic rift that's left Qatar isolated from its Gulf neighbors.
Saudi Arabia, Egypt, Bahrain and the United Arab Emirates cut ties with Qatar in June over its close relations with Iran and its alleged support for extremists.
Qatar denies supporting extremism, saying the crisis is politically motivated.