Qaddafi's Son Denies Plot to Sneak Into Mexico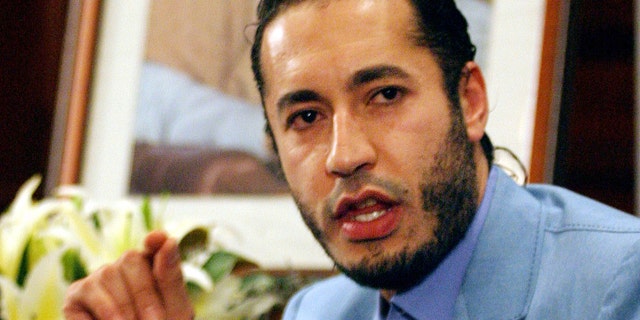 CAIRO -- The son of slain Libyan leader Muammar Qaddafi "vigorously denies" having plotted to illegally sneak into Mexico to escape his home country after the fall of his father's regime, his lawyer said Friday.
Al-Saadi Qaddafi fled to the neighboring country of Niger in September and the government there has given him refugee status. Mexico claimed on Wednesday that al-Saadi and three relatives also had initiated plans to sneak into Mexico under false names and take clandestine refuge at a Pacific coast resort.
Defense lawyer Nick Kaufman, who has been involved in several international criminal cases, told The Associated Press in an email that al-Saadi fled Libya because he feared for his life and is grateful to the government of Niger for giving him refuge.
Kaufman denied that al-Saadi was involved in any criminal wrongdoing, but said "it is hard to fault him for fleeing a country where his life was in grave danger and he would undoubtedly have met the same brutal fate as befell his father and brother."
The elder Qaddafi and his family fled Tripoli as the capital fell to revolutionary forces in late August during a brutal civil war. The dictator and another son, Muatassim, were killed after being captured by former rebels on Oct. 20 and the circumstances of their deaths have been criticized by human rights groups.
Mexico's Interior Secretary Alejandro Poire said the plan to bring al-Saadi Qaddafi to Mexico allegedly involved two Mexicans, a Canadian and a Danish suspect, all of whom have been detained. He did not reveal which relatives had planned to accompany al-Saadi Qaddafi, who is known for his love of professional soccer and run-ins with police in Europe.
The plot was uncovered by Mexican intelligence agents in early September, Poire said. The plotters allegedly jetted into Mexico, opened bank accounts and bought properties meant to be used as safe houses in several parts of the country.
Poire identified the leader of the plot as a Canadian woman named Cynthia Vanier, who was detained on Nov. 10. He said she and three other suspects were being held on suspicion of using false documents, human smuggling and organized crime.
Kaufman dismissed the allegations as an effort to discredit his client, who "vigorously denies that he formulated or sponsored any criminal plot to obtain illegal entry into Mexico."
Al-Saadi and other Qaddafi family members have been placed under an asset freeze and travel ban by the U.N. Security Council.
Qaddafi's other son, Seif al-Islam, who has been charged with crimes against humanity by the International Criminal Court, was captured in Libya in November. Two other brothers, Seif al-Arab and Khamis, were killed during earlier fighting, while their mother, Safiya, sister Aisha and another brother, Mohammed, fled to neighboring Algeria.
Libya's new rulers welcomed Mexico's announcement and called on Niger authorities to cooperate by handing over al-Saadi and other ex-regime figures so they can face a fair trial.
"I thank every country and any party that stops these criminals who are followed by the Libyan law and we thank Mexico for their stand," Libyan Foreign Minister Ashour Ben Khayil said.