Qaddafi's Son Denies Interpol Allegations of Corruption and Intimidation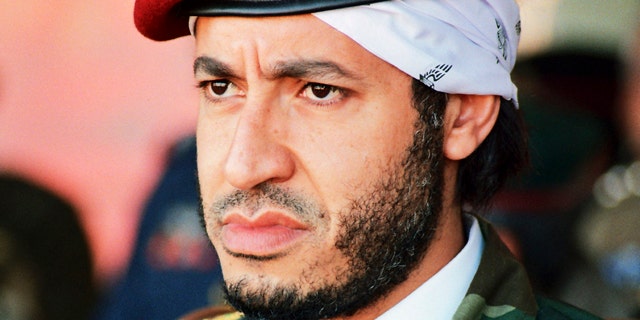 TRIPOLI, Libya – Muammar Qaddafi's son, al-Saadi, denied allegations of corruption and intimidation and called Interpol's decision to put him on the equivalent of its most-wanted list political, according to an email sent Sunday.
Al-Saadi Qaddafi is under house arrest in Libyan neighbor Niger, where he fled after Tripoli fell to revolutionary forces. His father and two of his brothers are in hiding, presumably inside Libya, as fighting between revolutionary forces and Qaddafi's loyalists continues on three fronts.
Al-Saadi "regrets the issue of a red notice by Interpol and strenuously denies the charges made against him," an email forwarded to The Associated Press said.
Interpol issued a red notice for al-Saadi last week based on accusations he misappropriated property and engaged in "armed intimidation" when he headed the Libyan Football Federation. He also was a special forces commander and is the subject of U.N. sanctions for commanding military units involved in repression of demonstrations.
The international police agency said the notice was issued in response to a request by the Libya's National Transitional Council, which has assumed leadership of the North African nation. Niger, which borders Libya on the south and long benefited from Qaddafi's largesse, has said it would study the question.
In the email, al-Saadi called the Interpol notice a "clear political decision to recognize the de jure authority of the National Transitional Council taken without appropriate regard to the current absence of a functioning, effective and fair system of justice in Libya."
It said al-Saadi "worked tirelessly to promote football in Libya, priding himself on the fact that Libya was formerly selected to host the 2013 Africa Cup of Nations." It added that Qaddafi's son "continues to call on all sides to seek a negotiated and peaceful resolution to the present conflict."
The South African Football Association has signed an agreement with Libya's post-Qaddafi football federation to host the 2013 African Cup of Nations, while Libya will stage the 2017 games.
The email was relayed to the AP on Sunday by defense attorney Nick Kaufman, who has been involved in a number of international criminal cases. Kaufman said he was contacted by an intermediary he identified as al-Saadi's press secretary, Jackie Frazier.
Al-Saadi fled to Niger in mid-September along with several other regime loyalists, including some generals.
Interpol also has issued red notices for Moammar Qaddafi and his son Seif al-Islam upon request by the Hague-based International Criminal Court. Both men have been charged with crimes against humanity.
Interpol had urged authorities in Niger and surrounding countries -- and those with direct flights to Niger -- to watch out for and arrest Qaddafi "with a view to returning him to Libya" for prosecution.
Interpol's red notices are the highest-level alerts they can issue to their member countries. The notices do not force countries to turn over suspects but strongly urge them to, and countries who ignore such notices can come under pressure from the international community.
Qaddafi's eight adult children have played influential roles in Libya, from commanding an elite military unit to controlling the oil sector. Al-Saadi, 38, headed the Libyan Football Federation, and at one point played in Italy's professional league but spent most of his time on the bench.
Another Qaddafi son is with his daughter Aisha and wife in neighboring Algeria -- along with other family members -- while Khamis Qaddafi, who led the Khamis Brigade that fought in the west, was reportedly killed in battle, although that was never confirmed.
Libya's new rulers have gained control of most of the country, but revolutionary forces still face fierce resistance in Qaddafi's hometown of Sirte, Bani Walid and pockets in the southern desert. NATO recent extended its mission, although the top U.S. commander for Africa said Saturday that the military mission is largely complete.
Army Gen. Carter Ham, head of U.S. Africa Command said that the National Transitional Council and its forces should be in "reasonable control" of population centers before the end of the NATO mission, dubbed Unified Protector. And he said they are close to that now.