Putin visits Cairo amid ongoing chill in US-Egypt relations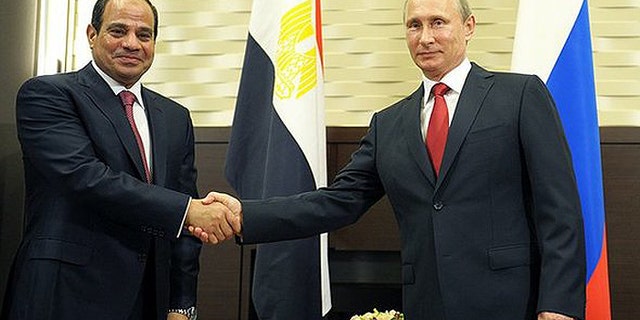 Cairo rolled out the red carpet for Russian President Vladimir Putin, who was in Egypt Monday seeking to expand the Kremlin's influence in the Middle East by cultivating a critical Arab nation that's gotten the cold shoulder from the Obama administration.
Egyptian President Abdel Fatah Al-Sisi, the former military leader who ousted the White House's favored incumbent Mohammed Morsi, has recently called on Muslim moderates to reclaim the faith from radical Islamists. But his call for an end to extremism has not helped cultivate a relationship with Washington, and that may have created a void Russian President Vladimir Putin is willing to fill.
"The Russians are limited in their capacity to help Egypt."
"I am convinced that a multi-faceted dialogue between Russia and Egypt will continue to deepen and expand for the benefit of the peoples of our countries, for the sake of peace and stability in the Middle East and North Africa," Putin told Egypt's Al Ahram newspaper in an interview this weekend at the Kremlin ahead of his first visit to Egypt in a decade.
On Monday, the streets of Cairo were decked out with posters welcoming Putin, and Al-Sisi met his Russian counterpart at Cairo's international airport amid speculation the two could shake hands on another arms deal, as they did in September after Al-Sisi visited Moscow to a similar reception. They were expected to discuss arms, energy and replacing the U.S. dollar with their national currencies for bilateral trade.
Putin has emerged as a key non-Arab backer of Al-Sisi, who has faced harsh criticism from the U.S. for ousting Morsi in 2013.
Egypt's former military leader responded to popular demand and massive street demonstrations in the summer of 2013 when the army ousted Morsi, the Muslim Brotherhood-aligned president. Sisi was officially voted Egyptian president in June last year.
The most populous Muslim country in the Middle East with more than 80 million inhabitants, Egypt is viewed as a key nation in the Arab world whose welfare is essential to regional stability. Al-Sisi is currently leading the fight against affiliates of Al Qaeda and ISIS in the east of his country in the Sinai Peninsula that also borders Israel, as well as on Egypt's western border with the now-failed state of Libya.
The U.S. has balked at supplying arms to Al-Sisi's government, and Russia has been more than willing to step in. Putin, under growing international pressure due to Russia's aggression against Ukraine, has moved quickly to develop ties with the Al-Sisi regime following the cooling of relations between the Obama administration and the new Egyptian leader.
"The leaders will pay special attention to ramping up trade and economic ties between the two countries," the Kremlin said ahead of the visit.
But experts said Egypt is still dependent on the U.S. for much of the intelligence and weaponry it needs to pursue terrorists, particularly in the Sinai Peninsula.
"Russia is not playing a major role in the current problems that Egypt faces," Oded Eran, senior research fellow at the Institute for National Security Studies (INSS) in Tel Aviv, and a former Israeli ambassador to both Jordan and the EU, told FoxNews.com. "The Russians are limited in their capacity to help Egypt."
Eran said Russia cannot threaten the U.S. role in the Middle East without doing "a lot more in terms of weapons, economic aid, and international aid."
The U.S. has signaled a readiness to resume close ties with Egypt, delivering 10 Apache helicopters to Cairo in December after lifting part of a freeze on aid. But Al-Sisi may choose to play the nations against each other, or move closer to Russia, particularly if the U.S. continues to criticize his administration, according to regional experts.
Paul Alster is an Israel-based journalist. Follow him on Twitter @paul_alster and visit his website: www.paulalster.com