Putin, Ukrainian president meet for first face-to-face talks since June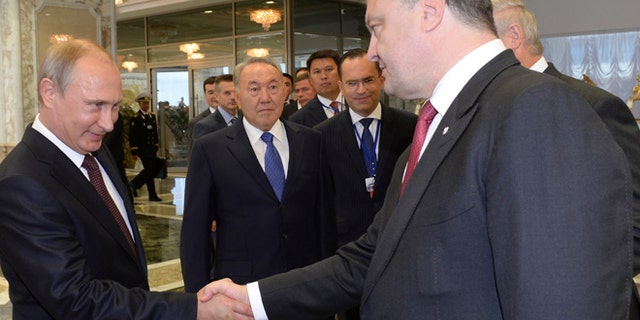 NEWYou can now listen to Fox News articles!
MINSK, Belarus – The presidents of Russia and Ukraine sat down for talks Tuesday, meeting face-to-face for the first time since June on the fighting that has engulfed Ukraine's separatist east.
Russia's Vladimir Putin and Ukraine's Petro Poroshenko were joined by the presidents of Belarus and Kazakhstan and three senior officials from the European Union in the Belarusian capital of Minsk.
The meeting came as Ukraine said its forces had captured 10 Russian soldiers in eastern Ukraine and the shelling spread to a new front in the far southeast. Ukraine has repeatedly accused Russia of supporting and arming the rebels, which Russia denies daily.
"The fate of peace and the fate of Europe are being decided in Minsk today," Poroshenko said as the talks began.
Under pressure to seek a negotiated settlement and not a military victory, the Ukrainian president said the purpose of his visit was to start the process of searching for a political compromise and promised that the interests of Russian-speaking eastern Ukraine would be taken into account.
Putin devoted most of his opening remarks to trade, arguing that Ukraine's decision to sign an association agreement with the EU would lead to huge losses for Russia, which would then be forced to protect its economy. Russia had been counting on Ukraine joining a rival economic union that it is forming with Belarus and Kazakhstan.
Ukraine is set to ratify the EU association agreement in September.
On the fighting that began in April between Ukrainian troops and pro-Russia separatists, Putin said only that he was certain the conflict "could not be solved by further escalation of the military scenario without taking into account the vital interests of the southeast of the country and without a peaceful dialogue of its representatives."
Poroshenko would be unlikely to agree to Russia's frequent call for federalization — devolving wide powers to the regions from the central government — but could agree to allow them to have some expanded powers.
He also has spoken against holding a referendum on Ukraine's joining NATO; Russia's desire to keep Ukraine out of the alliance is seen as one of Moscow's key concerns.
Opening Tuesday's meeting, Belarusian President Alexander Lukashenko urged both sides to "discard political ambitions and not to seek political dividend."
Putin has so far ignored requests from the rebels to be annexed by Russia — unlike in March, when he annexed Ukraine's Crimean Peninsula. But Associated Press journalists on the border have seen the rebels with a wide range of military equipment — including tanks, Buk missile launchers and armored personnel carriers — and have run into many Russians among the rebel fighters.
Ukraine wants the rebels to hand back the territory they have captured in eastern Ukraine, while Putin wants to retain some sort of leverage over the mostly Russian-speaking region so Ukraine does not join NATO or the European Union.
The Facebook page for Ukraine's anti-rebel operation said soldiers from a Russian paratrooper division were captured Monday around Amvrosiivka, a town near the Russian border.
Towering columns of smoke rose Tuesday from outside a city in Ukraine's far southeast after what residents said was a heavy artillery barrage. Ukraine accused separatists and their Russian backers of trying to expand the conflict.
It was the second straight day that attacks were reported in the vicinity of Novoazovsk, which is in eastern Ukraine's separatist Donetsk region but previously had seen little fighting.
Local residents in Novoazovsk, some hastily packing up in order to flee, told The Associated Press it was not clear what direction the firing had come from Tuesday.
Ukrainian officials on Monday said artillery was fired from the Russian side of the border. A Ukrainian soldier who declined to give his name suggested that Tuesday's shelling could have come from rebels aiming to take out a Ukrainian rocket launcher.
In Kiev, Col. Andriy Lysenko, a spokesman for Ukraine's National Security Council, blamed the shelling on "Russian mercenaries."
Novoazovsk lies on the Azov Sea on the road that runs from Russia to the major Ukrainian port of Mariupol. That same road goes west to Crimea, the Black Sea peninsula annexed by Russia in March.
Ukraine said a small column of Russian tanks and armored vehicles crossed into Ukraine on Monday north of Novoazovsk, raising the possibility that pro-Russia separatists were aiming to take control of a strip of land that would link up Russia with Crimea.
"Russia is trying from its side to open a new front," Lysenko told reporters.
"The new columns of Russian tanks and armor crossing into Ukraine indicates a Russian-directed counteroffensive may be underway," U.S. Ambassador to Ukraine Geoffrey Pyatt said on his Twitter account.
Lysenko said there were enough forces and equipment in Mariupol to defend the city of more than 450,000. An AP reporter saw excavators digging deep trenches Tuesday on the eastern edge of the city.
Ukraine's posting about the captured soldiers included videos of five of the men.
One of the captured soldiers, who identified himself as Sergei Smirnov, said they were not told anything about their mission.
"We were just traveling through fields and then we stopped in the middle of the field and the BMP2 (armored vehicle) broke down," he said.
Asked if he knew they were on Ukrainian territory, he said: "When we got into the village we saw a tank with Ukrainian flag. Then we understood." He said they then came under fire.
Russian news agencies quoted an unnamed official in the Russian Defense Ministry as saying the soldiers were patrolling the border and probably crossed the border inadvertently.
Russia reportedly has tens of thousands of troops positioned in areas near the Ukrainian border, leading to persistent concerns that Moscow could be preparing an invasion.
The fighting in eastern Ukraine began in mid-April, a month after Russia annexed Crimea. It has killed over 2,000 people and forced over 340,000 to flee, according to the U.N.